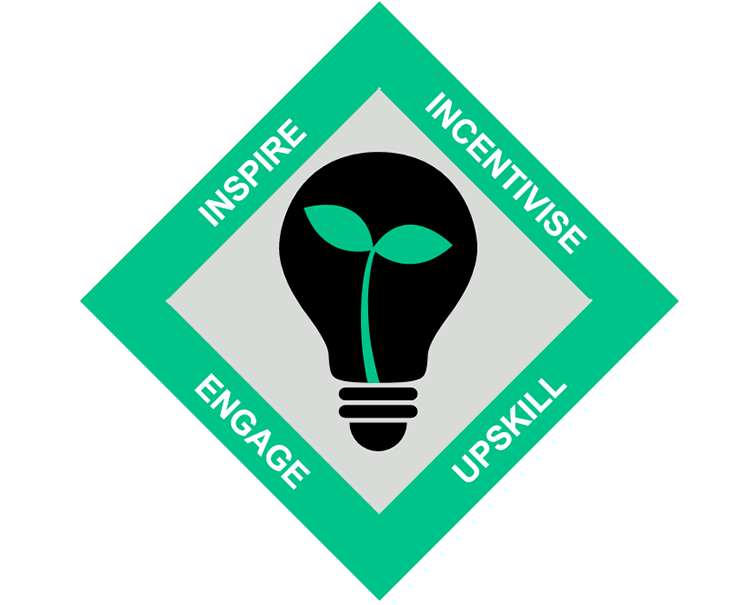 The successful implementation of your climate strategy depends on your people. In fact, our recent survey, which was completed by 120 organisations, showed that 97% of respondents agree that employees have a significant role to play in the delivery of climate strategy.
To build a culture that embraces your climate strategy, you need to engage your employees in your climate vision, objectives and plans.
This means:
Establishing regular and consistent listening and communications exercises to build engagement, hear from your employees and act on their suggestions
Understanding levels of both leadership and employee awareness and involvement in climate issues and activities
Developing tailored employee communications to reinforce your climate strategy and embed it into the employee experience
This seems simple. Yet, our research showed that only 11% of organisations have fully implemented employee engagement and listening activities.
Our aim is to make it as easy as possible for organisations to implement engagement and listening activities. This can drive culture change – and, as organisations become more climate conscious, promote wider positive societal change.
Listen
Give your employees the opportunity to have a voice on your efforts to create a climate-conscious culture; do they understand it, are they involved in it, are they inspired by it? Surveys and virtual focus groups give you the ability to scan levels of employee awareness and involvement in climate-related activities available at work, as well as identify any barriers to optimising their contribution to your success. You'll be able to understand your employees' attitudes towards climate and give leaders and managers the opportunity to be fully involved in your transition. Once you've identified what's working, what's not, and why – you can build a clear path that drives the culture and the change you need.
Engage
Tell your story through messaging that is consistent and authentic. To build momentum around climate – and ensure that the rollout of your climate strategy is an ongoing exercise, rather than a one-off event – your employee communications need to be tailored, targeted and transparent. These might include leadership videos, employee toolkits to facilitate climate-friendly behaviour, or a starter guide to investing pension savings sustainably – all of which strengthen your employer brand. This creates an employee experience that your people can buy into, and a climate strategy that employees are truly a part of, and actively driving forward.
Employee listening activities and education initiatives not only bring your climate strategy to life; they make way for real-world impact. Get started by engaging your people.
Contacts
---
GB Head of Talent and Rewards
---
Cari Miller
Lead Associate - Investment
---
Director, Talent and Rewards
---