You may have seen that numerous female executives and professionals have launched #metoopay, a campaign aimed at shining a spotlight on the gender pay gap at all levels of organisations. Alongside the trending campaign, European governments continue to introduce additional regulation to enforce employers' obligations on equal pay and benefits.
This month's article provides a round-up of new European regulations on equal pay, gender pay and equal benefits. We cover a powerful new tool — pay equity analytics software — that provides a faster, more effective and easier way to identify and address equal pay risks.
We also provide the latest examples of companies setting out their global fair pay position, and highlight the types of questions we are hearing Remuneration Committees starting to ask on the topic. Our hope is that these consolidated insights will make you better prepared to handle the growing fair pay agenda.
European regulatory round up – how are legal requirements changing?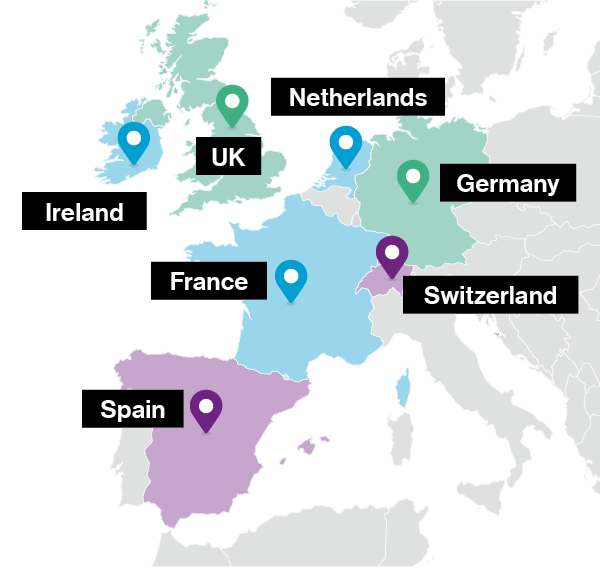 Figure 1. Countries across Europe have employers looking to do more for equal pay and progression.
Across Europe, policy makers are looking to employers to do more to ensure equal pay and progression and, slowly but surely, more and more countries are turning these debates into additional legislation.
Here is a round-up of what is happening around Europe on the topic:
EU - CRD V: There is a new requirement for a gender-neutral remuneration policy for relevant Financial Services companies from 2021.
Switzerland: There will soon be a requirement for four-yearly equal pay analyses and disclosure for employers with 100+ employees (effective date to be confirmed).
Spain: Spain: Employers with 50+ employees will be required to prepare workplace equality plans and wage registries covering average pay levels by gender, starting with larger employers from 2020.
Ireland: A new gender pay gap reporting bill has been put forward and is in the process of becoming law. It may begin to affect employers from 2020 or 2021 onwards.
Netherlands: Recent proposals have been put forward for company certification on equal pay, enhanced annual report disclosure and enhanced employee rights for equal pay information, which are under early consideration.
France: Pay equity index requirements are now in place, and the first publication dates for companies with 251+ employees have now passed. For companies with 50 – 250 employees, the publication deadline is 1 March 2020.
Germany: This is now the second year of enhanced employee rights for equal pay information.
UK: This is the third year of gender pay gap reporting, and ethnicity pay gap reporting regulations are currently under consideration.
European governments have also been passing measures to support gender equality and female progression in the workplace by increasing the family-related benefits available to men and to women. A summary of the most recent regulation can be found in our article: New and proposed parental leave entitlements and the most recent market-leading company parental leave policy can be found here.
Powerful new pay equity software
"

Pay gaps are one of the critical challenges that organizations and their HR functions face today."

Mark Reid
Leader, Global Rewards, Willis Towers Watson
In the face of this new regulation and employee expectations, companies have been asking for faster, easier and more effective ways to identify and address equal pay gaps. To help answer this question, we have entered into a partnership with Syndio, a US HR analytics company, giving us access to their market-leading pay equity analytics software. It allows a check on the equal pay position of any employee group in minutes, amongst other great features. The software represents a step-change in the way equal pay analytics have been previously carried out in the UK and Europe: it takes the pain out of identifying issues and allows employers to move quickly to corrective actions and more confident communication.
Should you have a global fair pay position as a company?
Different local legislation and activities doesn't mean your organisation shouldn't have a unified story. In response to growing pressure we are seeing more and more companies set out their global position on fair pay in unique ways over and above any local regulatory requirements.
We have entered into a partnership with Syndio, a US HR analytics company, giving us access to their market-leading pay equity analytics software
Recent examples include Vodafone, who published their global fair pay principles which inform all their pay practices globally. Similarly, Barclays has published a fair pay report explaining five broad themes about how the organisation thinks about fair pay. While other organisations such as Ikea, Unilever and Astrazeneca have set a global living wage approach working with the Fair Wage Network.
Even though regulation may differ by country it is important to think about how you can tell a coherent and consistent story to your employees on a global basis.
Community Business has been compiling its flagship study in partnership with Willis Towers Watson, the Gender Diversity Benchmark for Asia (GDBA) since 2009, with updates published in 2011 and 2014. You can download the full report here.
What might your Remuneration Committee want to know?
The Shareholder Rights Directive is requiring remuneration committees across Europe to think about the alignment of executive rewards with employee rewards. This, combined with the broadening fair pay agenda, means that we are seeing Remuneration Committees asking more and more questions on this topic. Those we typically hear are:
Do we have any equal pay risks with senior female executives?
What is our equal pay situation?
Do we pay living wage?
What is our gender pay gap? Why is it not moving?
Can we have a scorecard or a dashboard that includes key aspects of fair pay?
It will be important that you anticipate these widening questions moving forward.
Willis Towers Watson's View
In this evolving landscape of fair pay, it can be hard to keep up. Follow our five top tips for a head start:
If you want a sustainable, global approach to managing equal pay and meeting local requirements, you need to be confident that your pay management approach is working, and that any pay differences are not based on gender, ethnicity or other protected characteristics.
Ad hoc, local equal pay checks are no longer an option.
Learn about the technology that allows fast, comprehensive checks to help you identify immediate equal pay issues and reduce future risks – in each and every market.
When the remuneration committee ask you about equal pay risks, have a plan ready that sets out a longer-term, global solution.
Decide how transparent you want to be with your employee population, and stick to a consistent tone of communication.
Contacts
---
Senior Director, Talent and Rewards (Europe)
---
Daniel Puckey
Director - Rewards
---