We can all agree that headlines like this one remind us of just how important "Environmental, Social, Governance" (ESG) measures are for companies.
These are not simply 'nice to haves' but critical inputs that can have a real impact on financial performance.
Many companies and Remuneration Committees are now grappling with how they can ensure they incentivise the right behaviours in these areas, and it's not an easy question.
So let's start with the basics, why should you (and the Remuneration Committee) even care?
There are many reasons, but we'll start with the two we see as most important:
Your company value reflects it
Your investors make decisions around it
Your company value reflects it
Figure 1 illustrates the growing significance of intangible assets over the last few decades.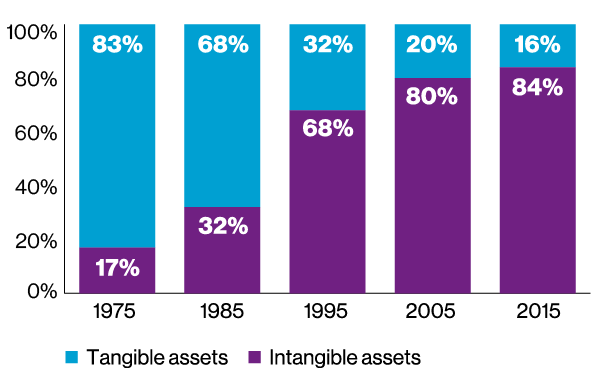 Figure 1: Historical chart of company value for the S&P 500
Source: Ocean Tomo Annual Survey 2017
At the most basic level, we define intangibles as something lacking physical substance. Examples are patents, brand, reputation, technological know-how and an engaged workforce. Whilst an intangible asset doesn't have the obvious value of a tangible asset, in that they are difficult to quantify or measure, they are often critical during times of business disruption, such as an exogenous shock, and can be paramount to business success. It's not necessarily what you own, but how you act that contributes towards your value.
Your investors make decisions around it
Investors are increasingly aware of the significance of ESG and make it clear this influences their investment decisions. A couple of examples are cited below.
Blackrock's Larry Fink stated that millennials are expressing new expectations of the companies they work for, buy from, and invest in.
"In the years to come, the sentiments of these generations will drive not only their decisions as employees but also as investors, with the world undergoing the largest transfer of wealth in history: $24 trillion from baby boomers to millennials".
"As wealth shifts and investing preferences change, ESG issues will be increasingly material to corporate valuations".
Source: Blackrock – Larry Fink letter 2019
Vanguard reminds us of the potential financial risk of overlooking ESG.
"

The way a board governs a company, including its oversight of material environmental and social risks, should be aligned to create sustainable value long into the future."

Vanguard
"The way a board governs a company, including its oversight of material environmental and social risks, should be aligned to create sustainable value long into the future".
"Unfortunately, we've witnessed instances in which risks turned into governance failures. Moreover, we've seen increasing evidence that non-traditional but material risks such as climate and data-privacy concerns can damage a company's long-term value".
"If a company's practices, organizational culture, or products put people's health, safety, or dignity at risk, they can pose a financial risk to investors too".
Source: Vanguard - What we do. How we do it. Why it matters April 2019
Now that you're interested, let's get specific:
While the issue of ESG is primarily for the Board, the Remuneration Committee should not lose sight of it. Investors are not only expressing their desire to invest based upon a company's reaction to ESG, they are also specifically asking Boards to consider using ESG measures in variable pay schemes.
When asked the question, 89% of investors say the inclusion of sustainability metrics in variable pay is important in both annual and long-term incentive plans.
Figure 2: How important is the inclusion of sustainability metrics in variable pay?
The charts below illustrate that a total of 89% of investors agree the inclusion of sustainability performance metrics and targets in executive long-term incentive plans is either "very important" or "somewhat important". Only 4% say its "not important" for annual or long-term incentive plans.
And not only are your investors interested, so are your consumers and employees:
87% of consumers will have a more positive image of a company that supports social or environmental issues.
88% will be more loyal to a company that supports social or environmental issues.
Source: Forbes (2018) Do Customers Really Care About Your Environmental Impact?
How can you incorporate it?
ESG is a big issue – both in terms of impact but by its very definition. It's important to remember that organisations can't tackle it all at once, but they can get started by prompting a conversation:
What should the focus be?
Can you define and measure it in some way?
How might it be reflected in incentives, if at all at this stage? (as a weighted measure, an underpin, etc.)?
A few markets examples:
Shell introduced an 'Absolute Energy Transition' metric in its long-term incentive weighted at 10%. It includes a mix of measures:

A goal of reducing Net Carbon Footprint
Shifting towards renewable energy sources
Advancing biofuels technology
Creating carbon capture and storage (CCS) systems and developing other responses climate change



Since 2017, Unilever has used a 'Sustainability Progress Index' in its long-term incentive (MCIP award) weighted at 25%. This tracks progress towards:

The 10 USLP pillar targets
Unilever's transformational change agenda
Performance on sustainable living brands
The impact of Unilever's activity on sustainability



In the broader UK market:

About two-thirds of FTSE 100 companies use some form of ESG metric in their incentive plans:

60% incorporate ESG metrics in their annual incentive plan
11% incorporate ESG metrics in their long-term incentive plan

Human resources (42%), customer services (25%) and health and safety (18%) are the most common ESG issues incorporated into annual incentive plans
Customer service (7%), environment/sustainability (6%) and human resources (6%) are the most common ESG issues incorporated into long-term incentive plans
Companies in Financials (23%), Materials (18%), Consumer Discretionary (15%) and Industrials (10%) sectors are most likely to incorporate ESG metrics into their incentive plans
Willis Towers Watson's view:
To ensure your reward is insulated from exogenous business shocks, much like BP in 2010, it is crucial to ensure that you protect intangible assets by linking pay to the performance of ESGs. FTSE companies such as Shell and Unilever are leading the way in this space. Is it time for you to join? If so, we have three top tips for you to consider:
Get the right information to have an informed debate:

Set up high quality dashboards of information to ensure the Board, and the Remuneration Committee specifically, have the right information to make informed decisions.
Be aware of your individual investors' views on the topic so you are prepared to speak to them in consultation.
Understand how your key sector competitors are responding to the issue so that you don't fall behind.



Consider what can / should be done in remuneration:

Consider introducing one or more ESG measures into your short- or long-term incentive.
Less is more! Pick the key factors you can quantify and measure – scrutiny of target setting is only building so ensure that you have a robust explanation of your metrics.



Continuously monitor progress and disclosure:

If you've selected a measure to incorporate into the incentives, how is this tracking? Does it remain appropriate? Is it enough?
If you're not directly measuring progress in incentives, how are you doing so behind the scenes? How are you communicating this to your consumers / your employees?
We hope that these three tips have brought the conversation around ESG front of mind. Now it's time for you to continue the conversation. Don't wait and see…ESG is key.
Authors
---
Director, Executive Compensation & Rewards
---
Isabel Langhorn
Lead Associate - Executive Compensation
---