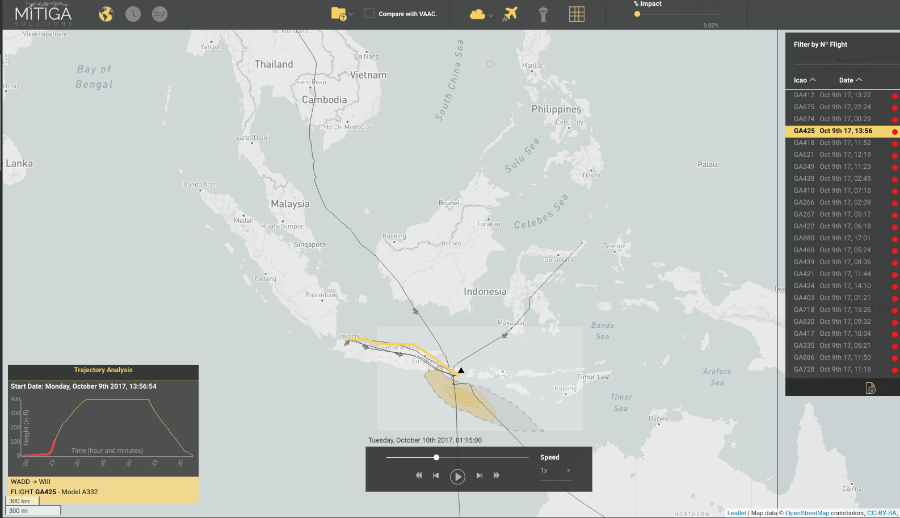 MITIGA Solutions: Volcanic ash cloud forecasting for air traffic management
Since 2006 our award-winning Willis Research Network has created successful partnerships with diverse research teams across the world, leveraging leading-edge science for the benefits of our clients, putting science at the service of improved decision-making in a world of uncertain risks.
A partnership of particular relevance to our aviation and aerospace clients is our recently formalized collaboration with MITIGA Solutions, an offshoot of the Barcelona Supercomputing Centre to predict and mitigate the impact of natural hazards to Air Traffic Management and aviation operations. Volcanic ash, sandstorms, mineral dust etc… are a key hazard for airlines, and affects flight safety, aircraft routes, infrastructure and engine lifetime. Harnessing the power of the MareNostrum IV supercomputer, data analytics, and weather and volcanic expertise, our MITIGA Solutions partners can help assess the extent and height of the impact of those hazards in realtime, at each stage of an aircraft operation and ongoing emergencies, for an efficient management of the emergency, and prior to an event, for early warning. This would allow airlines to mitigate their exposure, re-route planes, minimise delays and cancellations, and related economic losses. Their state-of-the art early-warning and real-time modelling can transform the decision-making process for air traffic. The implementation of this proactive risk mitigation technology is expected to reduce maintenance costs, disruption costs and the total cost of risk; but also improve efficiencies, safety and passenger satisfaction. This is a subscription-based market-leading solution, both in terms of scope, sophistication, time and accuracy, and fills a gap left by the heterogeneous service provided by the Volcanic Ash Advisory Centres.
This subscription based service will be introduced as part of Willis Towers Watson's extensive support to the aviation and airline sectors, and can be integrated into existing relationships and risk practices as well as triggering new levels of interest and engagment. It will form part of the analytical suite of Willis Towers Watson capabilities, offered as either a stand alone initiative or as part of a broader and more interconnected package. There will also be the option to regularise the capability within the current operational practices of a firm, or to offer an event or time based service.
MITIGA Solutions is certified by Eurocontrol, and MITIGA Fall3d is the dispersion model currently in use by the Darwin as well as Buenos Aires VAACs.
The Barcelona Supercomputing centre is also the official provider for the Sand and Dust Storm warnings of the World Meteorological Organisation.