We expect 2019 to bring a trilogy of challenges to institutional investors. Tom Brooke-Smith considers our Five Year Capital Market Outlook and what it means for defined benefit (DB) and defined contribution (DC) pension schemes.
During 2018, weakening economic growth and central bank tightening drove increased capital market volatility. Given the current position in the economic cycle, this was not a surprise. As a result, a diversified approach to building investment portfolios would have been rewarded relative to a more concentrated approach.
Central bank tightening and expensive valuations led to a risky asset correction during 2018.
Whilst central bank action has reversed these trends in early 2019, we continue to hold concerns about the fragility of this recovery.
The recovery in 2019 also appears fragile given weakening underlying fundamentals.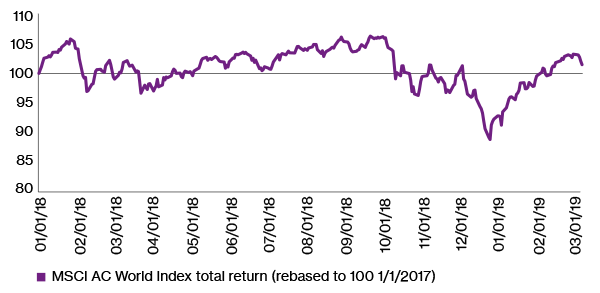 Source: Factset, 1 January 2018 – 1 March 2019
We believe the global economy and markets are at an important juncture. In our view, the most likely outcome over the next two to three years is a slowing of economic growth that results in a recession in one or more major geographic regions. With asset prices back at (or close to) peak levels, our economic and market outlook implies a trilogy of problems for institutional investors:
Slowing global growth in 2019 and elevated recession risks are a threat to the operating environment of many corporate sponsors. Unexpected DB cash contributions will be even less palatable than usual in this environment. These forces also threaten DC members' real incomes and their ability to maintain contributions;
A weakening economic environment is likely to cause return-seeking asset values to fall, and undermine DB funding levels and DC members' savings pots. For equities, in particular, there is a good chance of a 20%-30% decline within the next three years;

Whilst yields are low they still have room to fall further in a number of economies.

Volatile bond yields could create further challenges to DB funding levels for schemes that are not hedged fully, as well as the savings adequacy of mature DC members. Slowing global growth will likely place downward pressure on nominal yields. Additionally, for the UK, Brexit and other regulatory risks could create considerable uncertainty for inflation and hence real gilt yields.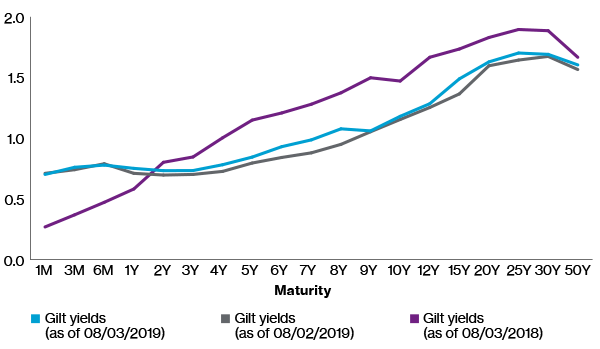 Source: Factset, 8 March 2018 – 8 March 2019
The 'simple' answer to these problems is to de-risk portfolios and wait for more benign conditions. However in practice, when considering an appropriate investment strategy, trustees and sponsors should consider a range of plausible potential future outcomes. Whilst our outlook is pessimistic, we note that it is far from certain. Policymakers' actions may provide more support to the markets than we expect, we may have misread the likelihood of a US corporate slowdown, or Chinese growth may rebound more strongly than we are anticipating. Any one of these uncertainties, or others, could derail our outlook.
Therefore, instead of taking a large bet on a fine judgement call, or single forecast, a more sensible way forward is likely to involve gradually improving the robustness of the investment portfolio through the application of a multi-faceted approach. Such an approach looks to make incremental improvements on both the return generation and risk management side. The overall aim would be for the aggregation of these dynamic changes to lead to a significantly improved outcome and – perhaps as importantly – one which is robust to a range of risk exposures.
Broadly speaking, the sorts of actions available to protect a portfolio would fall across four main categories:
True diversity: many portfolios remain reliant on investing in assets that are closely correlated with the economic cycle. As a starting point, we believe portfolios should move towards a more balanced exposure across a set of fundamentally diversified markets such as real assets, different forms of credit, as well as alternative means for accessing returns through hedge funds and equity.
Reducing unrewarded risks: risk management is an important part of portfolio construction. As well as controlling traditional risks, such as liability and foreign currency risk, a robust portfolio should make extensive use of scenario tests in areas such as climate in order to identify non-financial risk exposures.
Dynamism: incorporating dynamism in a total portfolio approach can add value through both risk management and return generation. The definition for dynamism can be broad – for example, opportunistically purchasing risk mitigation assets such as options or high quality government bonds can improve portfolio outcomes.
Innovation: in a low return environment, where many asset markets appear overvalued, it becomes especially important to adopt an innovative approach to accessing new markets and new investment vehicles. Schemes can generate additional returns through accessing markets that are less well travelled, or packaging ideas in specialised vehicles – for example, the opportunities that have become available through the opening up of Chinese capital markets.
Combining these changes into an appropriate portfolio that meets a scheme's specific objectives and constraints requires discipline and cross asset expertise. Whilst this task is not easy, bringing together all of these elements intelligently can improve portfolio efficiency by between 30% and 40%. Such an improvement is only achievable through the consistent application of deep and broad investment expertise, something that is often best achieved through the delegation of day-to-day investment arrangements away from board decisions to a full-time team. Many funds will not have the requisite in-house resources to achieve these results, and choose instead to 'import' this expertise from a fiduciary manager.