When you think of the operation of DB pension schemes, the first thing that comes to mind is probably not 'at the forefront of technological advancement'. However, everyone involved in DB pension schemes uses technology in their day-to-day dealings with other providers, for example:
"The vast majority of DB pension scheme members now do banking via the internet and, quite reasonably, expect to be able to manage their pension in a similar way."
The vast majority of DB pension scheme members now do banking via the internet and, quite reasonably, expect to be able to manage their pension in a similar way.
Corporate and member nominated trustees are used to having all the information they need to perform the other parts of their employment on some form of technology platform, but pension schemes are often managed in a traditional paper format.
Everyone accesses the internet to get immediate online quotations for everything from insurance to banking products and so trustees and sponsors may find it strange that it still takes six months to get an initial valuation result from their actuary.
Alongside these developments, over the last few decades running a DB scheme has become increasingly challenging with continued pressures and expectations from both The Pensions Regulator (TPR) and scheme members in a progressively automated world; it is time to exploit technology to meet these challenges head on. This article covers some of the Willis Towers Watson software available now for pension schemes. It also covers our OneDB solution which incorporates these technology tools and makes life easier for trustees and corporates when managing their pension scheme as well as helping members understand the options available to them.
Online member access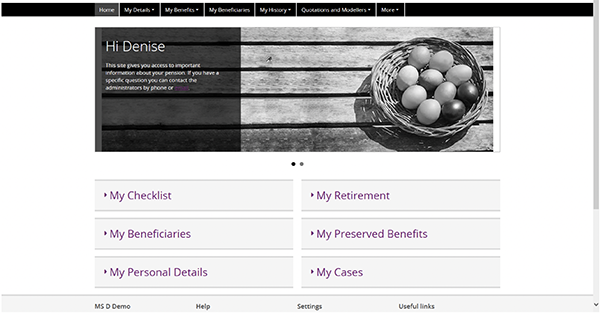 Since the introduction of pension freedoms and choice in 2015, almost all schemes have seen a sharp increase in the number of transfer values requested and taken, and heightened member interest in the pension available from their DB schemes. Pension scheme members want to be able to access their financial information quickly in order to make important life decisions. Keeping up with these member demands places substantial strain on both in-house and third party administrators. Automating the calculations used to provide members with this information has been necessary in many cases to meet these demands, and has led to a marked improvement in both accuracy and speed.
Once calculations are automated, with the right technology in place, members can access their financial information securely and directly through an online portal. OneDB incorporates Willis Towers Watson's ePA platform through which members have information on their retirement options at their fingertips and ready to pass to an IFA. They can also update their information held by the pension scheme and perform simple transactions. This alleviates pressure on administrators and schemes, brings costs down and gives members greater control and understanding of their pension benefits.
Scheme governance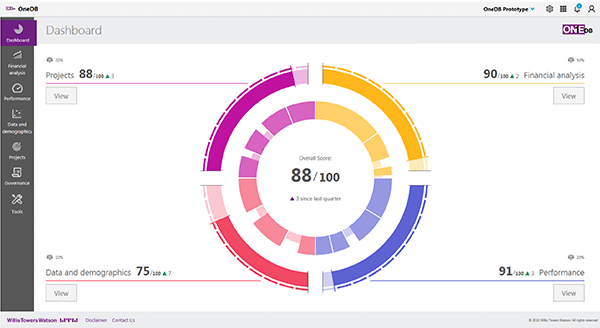 TPR urges trustees to consider their financial, investment and sponsor-related risks concurrently through some form of integrated risk management (IRM) framework. Many trustee boards struggle to get to the crux of what this actually means and how their current governance structure needs to evolve as a result. When asked in a survey recently, over 90% of respondents* believed that technology can improve governance. But how can this be done? An online dashboard with access to real-time information on the pension scheme's financial position, investment performance, scheme demographics and the status of projects allows trustees to consider their risks holistically, not in the traditional adviser buckets. OneDB enables trustees and scheme managers to access all this information whenever they want – at trustee meetings or any time in between.
Streamlined valuations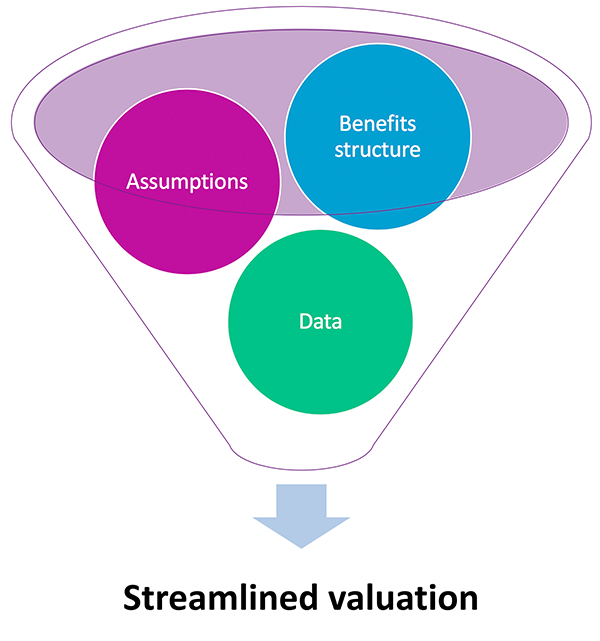 "As scheme sponsors become more focused on the cost and future direction of their schemes, allowing enough time for these important negotiations is paramount."
Valuation negotiations around funding positions can take 15 months (or even longer in some instances!). Not long after the dust has settled on one valuation, it often feels like the next valuation is imminent. As scheme sponsors become more focused on the cost and future direction of their schemes, allowing enough time for these important negotiations is paramount. Reducing the time to produce results expedites the process and allows more fluid and strategic discussions between trustees and sponsors. By reinventing the usual linear approach to valuations and capturing data and benefits in unison at outset, OneDB shaves months off valuation timelines. Significantly reducing the time for valuation calculations can reduce end-to-end valuation timescales and allows trustees to focus on other areas which can get neglected during a protracted valuation cycle.
Making quick and informed decisions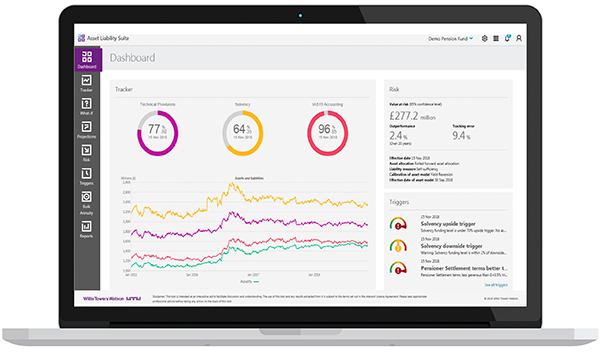 Whilst being able to agree valuations quickly is great, making decisions about a scheme's direction on a three-yearly basis doesn't quite cut it. Trustees and sponsors need to be able to understand the latest position of their schemes and the risks they face to be able to act rapidly. This is why OneDB incorporates Willis Towers Watson's Asset Liability Suite (ALS). It enables trustees and scheme managers to monitor assets and liabilities on a daily basis from any internet-enabled device, meaning they have the option to capitalise on opportunities that would have otherwise been missed as part of quarterly or even annual funding updates. Pre-determined funding triggers can be set up so that stakeholders are notified when a funding target is met with strategic investment decisions made in real-time, meaning that schemes can respond swiftly to positive market conditions and transact when it's right for them. Over 230 pension schemes and over £500bn of assets are monitored on ALS.
With all of our technology wrapped up in our OneDB solution, trustees and corporates have more time to focus on strategic decisions about how their pension scheme is run. This becomes even more powerful when trustees have limited time and company resources are stretched. Find out more about OneDB.
*Source: Willis Towers Watson survey at the 2018 PLSA Annual Conference and Exhibition from 105 respondents.