The recent slowdown in longevity improvements has continued into 2018 and shows no sign of abating. Does this mean that the era of strong improvements is over or is there a new longevity revolution round the corner? In this article, Shelly Beard and Matthew Edwards explore both the positive and negative drivers and take opposing views on the implications for pension schemes.
At the moment, it seems like you only need to wait a week or so before another gloomy story about the longevity of the UK population hits the headlines. This time it's the turn of the Office for National Statistics (ONS) who, on 18 June, released a report confirming that England & Wales mortality rates during January to March 2018 were the highest since 2009 and some 5% higher than the same period last year. And so the recent stall in UK longevity improvements, a topic of hot debate within the pensions industry as much as it is without, continues.
Figure 1. The changing path of longevity improvements over time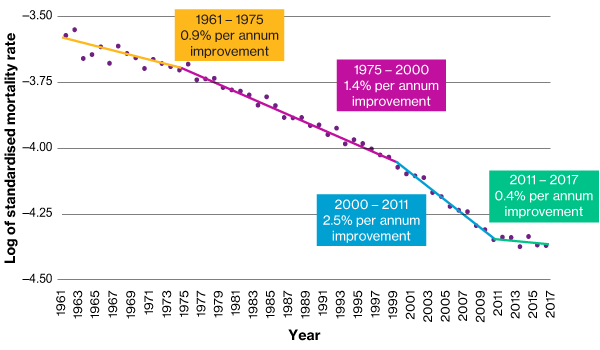 Source: Willis Towers Watson based on data published by ONS and Continuous Mortality Investigation (CMI)
As demonstrated by Figure 1, the period of sustained low improvements in mortality rates has now extended to six years and, judging by 2018's emerging data, shows no sign of abating yet. What does this mean for the future path of pension scheme member longevity? We've invited Matthew Edwards and Shelly Beard to argue opposing views on this point, illustrating why this is a very challenging question to answer at the current time.
Matthew Edwards
Newton's laws of motion tells us that things only change if something causes them to change.
In the case of longevity, the very material improvements from 1980 onwards had specific causes: primarily a massive reduction in smoking, an explosion in NHS funding (real-terms health expenditure up by a factor of eight from 1951 to 2011), and a revolution in cardiovascular medicine.
The vital, Newtonian question is this: will we see any such drivers for mortality change in the future?
First of all, will any of these effects continue?
Smoking reductions in the over 65s age range have been very slight in recent years (are people now set in their habits?).
NHS and social care funding has been under pressure in real per capita terms, exacerbated by ageing, migration, high medical cost inflation and the 'diminishing returns' aspect of medical expenditure (each more 'senior' year of life saved costs considerably more than the one before).
It has been many years since a medical innovation was rolled out and had a material effect across the population. Genetics and nanotechnology dominate the medical headlines, but the benefits continue to stay on the horizon.
Are there other drivers for mortality change? Well, yes there are, but they seem to be overwhelmingly negative; drivers of higher mortality, not drivers of higher longevity.
One of the primary 'bad drivers' relates to diabetes and obesity. As illustrated by Figure 2, diagnosed diabetes has increased by a factor of roughly three for men and women over the last 20 years in England. This has real implications - diabetes is a cause of conditions that lead to death rather than a direct cause - it is a driver of heart disease and cancer in particular (diabetics have mortality roughly double that of non-diabetics in older age). This build-up of diabetics will start to become more influential in the mortality statistics of the future and there is currently no pharmaceutical cure.
Figure 2. The increasing prevalence of diabetes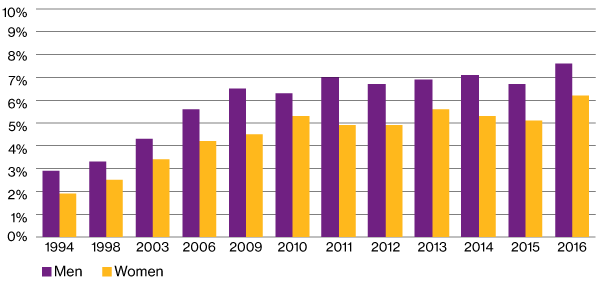 Source: Health Survey for England, NHS Digital
Neurological diseases are also showing a worrying upwards trend; both in incidence and the total number of deaths, with that number having more than doubled over the last 10 years. Additionally, there are other negative drivers, such as antibiotic resistance.
Taking these negative drivers into account, I believe that the case for reduced future mortality improvements outweighs the notion of increased future improvements and it is therefore reasonable for the pensions industry to reconsider the longevity predictions being made.
Shelly Beard
Have we entered a period of life expectancies stalling or even reducing for the general population? Perhaps. Certainly recent data can no longer be described as a 'blip'. But, if I was a guardian of a pension scheme (either trustee or sponsor-side) would I be fully allowing for this effect in my valuation? Probably not. Well not unless I was very certain of my covenant.
Firstly, to counter Matthew's knowledgeable arguments relating to the medical factors, I'd point to the significant medical advances we continue to see – barely a week goes by without news of a new or developing treatment, whether that be immunotherapy or gene therapy. With most pension schemes not hitting their peak cashflow for at least a decade and expecting to pay pensions for another 50-plus years, there is significant potential for pension scheme liabilities to be affected. After all, we never know what is round the corner. Figure 3 illustrates that global life expectancy has increased since the turn of the 20th century at a remarkably steady rate of 2.5 years per decade (albeit the path of any individual country is of course less smooth). Medical research and development continues to grow, and whilst an early 20th century doctor could scarcely imagine the discovery and impact of 20th century antibiotics, neither can we predict when the next breakthrough will occur.
Figure 3. The steady march of longevity improvements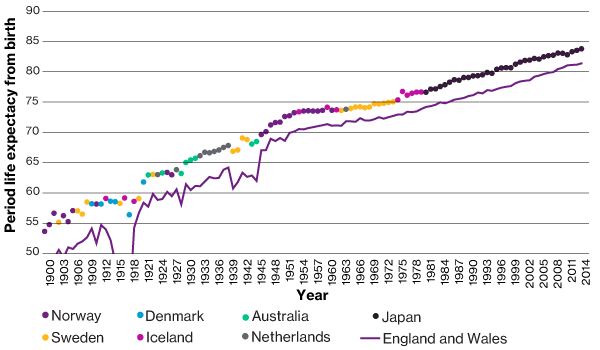 Source: Human Mortality Database - University of California, Berkeley (USA).
Secondly, with regards to the recent longevity slowdown, it is important to contrast the mortality statistics of the population with those based on DB pension scheme members. There have been a number of studies showing that pension scheme members have exhibited a different trend in life expectancies to the general population. For example, recent analysis carried out by the CMI, part of the Institute and Faculty of Actuaries, revealed that pension scheme members have experienced stronger longevity improvements over recent years than the wider population. Further, a recent study by the Pensions and Lifetime Savings Association showed that well-off male pensioners faired the best. There are no prizes for guessing which group represents the majority of liabilities for our pension schemes – yes, well-off male pensioners!
Many believe the reason this group have continued to display life expectancy increases is that they have been less impacted by the real-term cuts to NHS and social care funding. The significant additional funding recently announced for the NHS in coming years has the potential to restart longevity improvements and also highlights that longevity risk has a significant political element – I'm sure all pension scheme trustees would agree that they don't wish to take bets on politics.
To conclude, I believe that there is still considerable uncertainty around future developments in life expectancy for pension scheme members and that it is imprudent to place too much emphasis on recent developments when projecting the future. Doing so, may lead to a short-term funding boost but may lead to a future deficit.