When it comes to the fates of defined benefit (DB) pension schemes, bleak news stories abound. However, the headlines do not tell the full story. For every high-profile disaster, many of other schemes are quietly making progress on their journey towards secure funding.
With the stars aligning for many DB schemes, it's time for trustees and sponsors to revisit their journey plan. The 'end-game' may be considerably closer than you think, experts agreed at Willis Towers Watson's Breakfast Seminar: The stars align!
Closing the gap
Strong investment returns are the first reason why pension schemes' funding levels may have improved. Equity performance has been strong over the last 18 months, helping schemes to close their funding gaps.
Sadly, mortality rates have been higher than expected in recent years, too. Population data shows that since 2011, there has been a stalling, versus the trend in improvements we had seen up until that point.
Life expectancy's upward trajectory continued to stall in 2017 and early 2018. "2018 has seen some of the highest numbers of deaths recorded in recent history in the first two months of the year. Medical professionals have been calling on Parliament to try to understand what's going on – that's how exceptional they have been," said Stephen Caine, director at Willis Towers Watson. With schemes possibly now paying fewer pensioners than they anticipated, their funding positions will improve.
Mortality rates have been reducing over time, but there is not a steady rate of improvement, added Caine. From 1960 to 2010, life expectancy improved rapidly and the rate of improvement generally increased over time. When schemes forecast the pensions they will need to pay to retirees, they anticipate that the previous trend will continue, which isn't necessarily true. This means that when upward trends are not realised, as has happened since 2010, mortality projection models revise down the life expectancy used by pension schemes, improving their funding levels further.
When it comes to life expectancy trends, nothing is ever certain. The financial and resource pressures on the NHS and social care could be partly to blame for the increase in mortality we have seen. In the longer term, medical breakthroughs like a cure for cancer or regenerative medicine like stem cell therapy could easily restore the historic trend of mortality improvements. Then again, a rapid growth in diabetes, growing resistance to antibiotics, or simply the human body reaching its physical limits, could do the opposite.
What is certain however, is that today's figures put many schemes in a funding position that is better than expected. "If 2018 carries on this way, life expectancies will come down again when the next model comes out in 2019. You would need a mortality improvement in 2018 of at least 4.5% to improve life expectancy assumptions in 2019 – this looks highly unlikely based on data from 2018 so far," said Caine.
For schemes that are still on the journey towards self-sufficiency, uncertainty about life expectancy could be unsettling. Fuelling the challenge is the fact that life expectancy trends vary from scheme to scheme.
One route to greater certainty is for schemes to analyse their individual membership. Mortality varies from region to region, so schemes could look at where their members live. They could also undertake a medical analysis of their membership. Alternatively, a risk analysis could explore the range of possible outcomes for a scheme's population, allowing its trustees to prepare for the future.
Trustees can take steps to shore up funding levels as they improve. They can set de-risking triggers to help them take risk off the table along the way, using transactions like buy-ins, buyouts and longevity hedging.
Pricing looks attractive in the insurance market at present, meaning that another star has aligned for DB pension schemes. Exciting opportunities await the prepared.
Seizing the moment
Figure 1. Transactions vs Total UK DB liabilities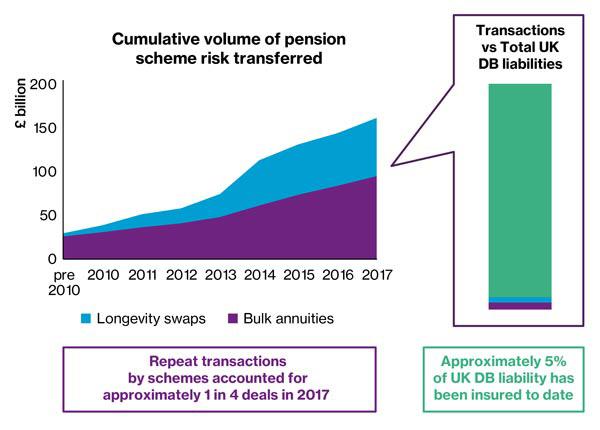 Insurance transactions may make regular waves in the pensions industry, but we have barely scratched the surface of liability hedging, as Figure 1 demonstrates. Some schemes have embraced de-risking with insurers and are moving along the path towards buyout, implementing their second, third or fourth transactions.
However, many DB schemes have yet to insure any of their liabilities. With insurers offering competitive pricing, now is the time for trustees to re-evaluate their funding position and make sure they are ready to seize the right opportunity.
"We are currently seeing the most attractive pricing in the insurance market since the financial crisis in 2009," explained Matt Wiberg, director in Willis Towers Watson's Pensions Transactions team.
Insurers' pricing is becoming more competitive for a number of reasons. Mortality trends are one contributor. In addition, insurers' investment strategies are getting more sophisticated, making prices even more competitive as investment returns improve. For instance, investing in UK infrastructure or wind and solar energy farms. These higher-yielding assets provide a great match for pension liabilities, plus a welcome illiquidity premium.
The longevity market is also opening to smaller schemes. As Wiberg said: "Longevity hedges have typically been the preserve of £1 billion-plus schemes. Now, it is opening to schemes with £100 million plus. This is due to greater efficiencies as the market matures, such as the streamlining of contracts."
It is vital for schemes to have a clear goal, timeframe, and to understand what risks they are taking, added Wiberg. For schemes which are aiming for buyout, the first step should be to update their assumptions in line with current market pricing. Updating a journey plan can improve a scheme's funding level to the tune of 5%, bringing it years closer to full funding.
Getting closer to the end-game
Schemes can take other steps to bring them closer to full funding. For instance, they could offer member options, such as early retirement or transfer values to eligible members. They should also consider opportunistic buy-ins, if their funding improves considerably or insurers are offering especially competitive pricing at a point in time. By seizing the moment, they will lock into good pricing and increase their certainty of hitting their eventual buyout goal.
Lots of DB schemes could come to market as their funding levels improve – so it is a good idea to move early if possible. Schemes which have already completed one transaction with an insurer have demonstrated their commitment to the market. If insurers find themselves reaching capacity or have limited capital resources in future, schemes which have already completed a transaction are expected to jump to the front of the queue.
Insurers also look favourably on schemes with good data. Anything trustees can do to improve the quality of their data – such as writing to members and collecting marital data – will help to smooth the path towards a de-risking transaction, said Wiberg.
Finally, when preparing for an insurance transaction, it's a good idea for trustees to have a price target in mind. One of Wiberg's clients went to market and received pricing in January 2017. They chose a preferred insurer and moved to exclusivity. But at that point, pricing didn't hit the target.
When the trustees moved to exclusivity with their preferred insurer, they shared their price target. This gave the insurer the opportunity to track the target daily, in relation to their pricing. With the customer committed, the insurer was also able to buy illiquid, high-yielding assets.
In June 2017, the scheme's trustees were able to make the most of general election-related volatility in markets and they hit the pricing trigger. The transaction was completed within a couple of days, with the client saving 10% on the original price they were quoted.
Going it alone
Not every scheme will be aiming for an insurance transaction in the medium-term. For example, schemes that have a reliable sponsor covenant may choose to adopt a run-off approach for paying their pensions, explained Lok Ma, director in Willis Towers Watson's Delegated Investment Services team.
Schemes that are pursuing this route could learn from insurers and adopt a low-risk, low-return investment strategy which is driven by their cash-flow requirements. However, a pension scheme operating under a different regulatory regime, can choose from a wider range of asset types than an insurer. "We prefer the types of assets that insurance companies avoid because of their regulatory constraints; we can pick them up for a better price because of less competition," explained Ma.
A scheme in run-off should hold a risk buffer on top of the matching portfolio, to provide protection against bad experience. However, the size of the buffer is likely to be lower than what an insurer holds. Overall it means that the run-off option will be substantially cheaper than a full buyout, for schemes that are comfortable with managing the low level of remaining risks.
"This is not a set and forget strategy," said Ma. "There is quite a bit of governance required to manage a run-off portfolio. The biggest schemes with well-resourced, in-house investment teams may decide to develop insurance-style expertise and manage the portfolio themselves. Others will appoint a third party provider like Willis Towers Watson to run the money in this way."
Finally, schemes should not forget that there is a middle ground between run-off and buyout; schemes could adopt a run-off approach, with the intention of buying out with an insurer once their population has become more mature.
Whatever a DB scheme's goal, the stars have aligned for many, meaning that they may be several years closer to the end-game than they realise. Now is the time to re-evaluate their journey plan.