In this article, Stephen Caine reflects on the limitations of the established mortality assumption setting techniques. Making the case for a new approach, Stephen explains how health-based modelling techniques can help schemes overcome these issues and better understand their scheme's mortality.
The most important factor driving an individual's longevity is their health and wellbeing. Yet, member health up till now, has been an unknown factor when trying to value a scheme's pension liabilities. Traditional approaches for analysing scheme member mortality have therefore relied on other factors which are shown to correlate to mortality. This includes the wealth and area of residence as indicated by the postcode.
The postcode has established itself as the most popular asset when tailoring scheme mortality and, for good reason. It is cheap and easy to use as part of a suitable model such as Willis Towers Watson's Postcode Mortality Tool. But most importantly, a postcode is very effective at drawing out the socio-economic factors which directly influence health as well as wellbeing and thus, mortality.
Nevertheless, postcode is not perfect and does have its limitations, especially when looking at smaller groups. The mortality implied by a study only reflects the average expectation for the postcodes in which members live. The spread of longevity outcomes within a postcode can actually vary significantly. For example, the average life expectancy in Richmond-upon-Thames at age 65 is two and a half years longer than that in Sunderland, and, within each postcode you can have a wider range of life expectancy depending on people's individual circumstances.
Limitations aside, existing approaches for setting a scheme's current level of mortality are all based on robust statistical techniques. Setting a scheme's assumption for the future rate of change of mortality is often much less scientific. The Continuous Mortality Investigation's projection model helps, but leaves pension scheme trustees and sponsors with the unenviable task of choosing a long-term rate of improvement. This has inevitably led to a degree of herding around a popular assumption for reasons of comfort – to be in the pack feels safer from a regulatory scrutiny perspective, than being an outsider. Choice of a long-term trend rate relies on a blend of guesswork and relying on past trends to repeat in the future. As illustrated by figures 1 and 2, extrapolating past trends into the future is currently more uncertain than ever.
Figure 1. The number of deaths in the UK has recently bucked the long term-trend – this increases the uncertainty over the future trend for life expectancy.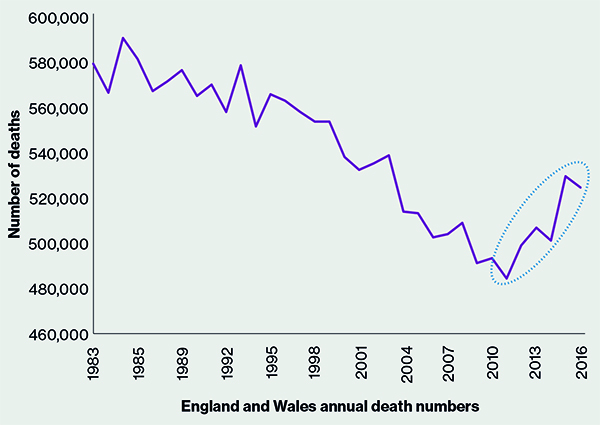 Figure 2. Causes of death are changing – what will affect scheme members tomorrow is not the same as what affected them in the past.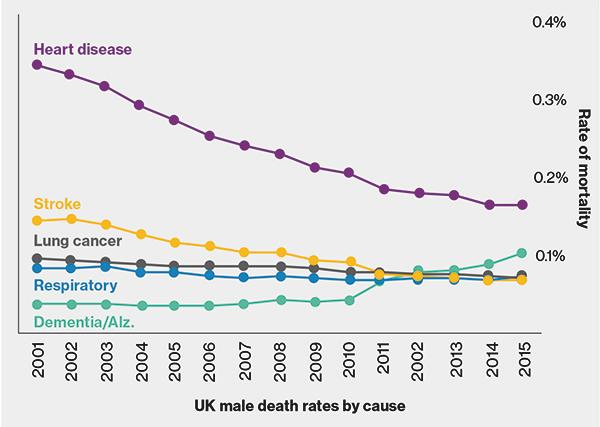 All of this makes the case for a new approach to complement existing techniques – a health-based approach. If we had information about the health and wellbeing of scheme members, we could avoid some of the guesswork inherent in traditional approaches. Using health information collected (or approximated) for a scheme's membership allows us to predict the future lifepath of scheme members for a truly individual and forward-looking analysis.
How does health-based modelling work?
Health-based modelling goes beyond the traditional approaches by building up scheme mortality directly from the individual causes. For example, Willis Towers Watson's Longevity Medi Focus service uses analysis of clinical practitioner data to develop a comprehensive understanding of the impact of health and wellbeing on the rate at which people die from major diseases, in the UK. This is coupled with the opinion of different leading health experts – one (or more) for each of the major disease groups - to understand the most likely outlook for each disease going forwards. This approach gives us a view on whether people are more or less likely to get the disease in future and how the prognosis will change in future, based on new medical techniques as well as other factors. Figure 3 illustrates how this information is used by Willis Towers Watson's PulseModel to build a future lifepath for each member which is based on their current health. It is a bottom-up and biologically plausible lifepath that incorporates a member's personal circumstances and robust predictions of the future, based on the underlying drivers rather than guesswork and past trends.
Figure 3. The PulseModel – a multistate model which tracks a member from health to eventual death.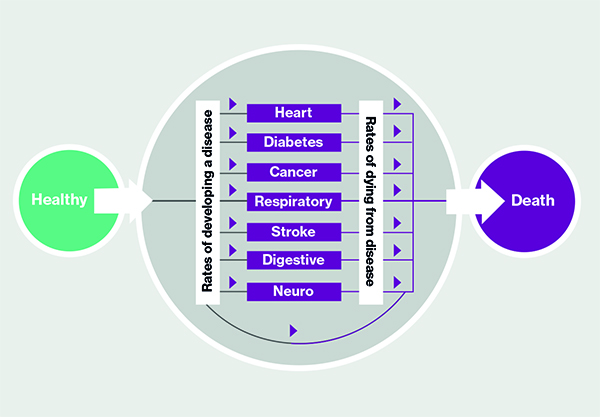 Why does this matter?
At its most basic level, it matters because it can have a material impact on a scheme's estimated liabilities. Figure 4 illustrates the impact of health and wellbeing on life expectancy – the difference between the individuals illustrated being nearly 12 years of life expectancy. By drawing out these distinctions in their membership, one Willis Towers Watson client found that they were over-reserving by 5%, shaving £40 million off their pension scheme deficit.
Figure 4. Illustrative impact on life expectancy of a number of health conditions.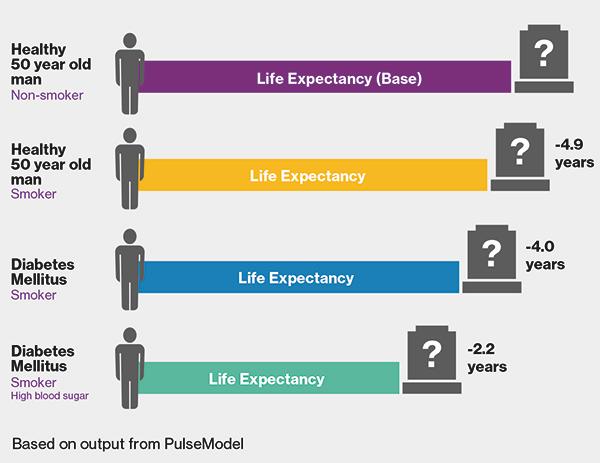 Furthermore, the path of de-risking taken by most schemes has raised the prominence of longevity as the last remaining big risk. Pension scheme liabilities are always going to be uncertain, but an effective plan for self-sufficiency will benefit greatly from a more granular and accurate approach to estimating life expectancy. It will also provide the best chances of not requiring future sponsor support. This is most important in the small group of highly paid members who may account for only a few percent of the membership, but possibly a fifth of the scheme's liabilities and over a third of the 'longevity risk' (that is, the possible additional cost of paying pensions if current life expectancy estimates are wrong).
If you are a pension scheme trustee or sponsor, now is the time to consider whether you could benefit from a more rigorous mortality assumption and get a better estimate of the cost of paying scheme pensions.