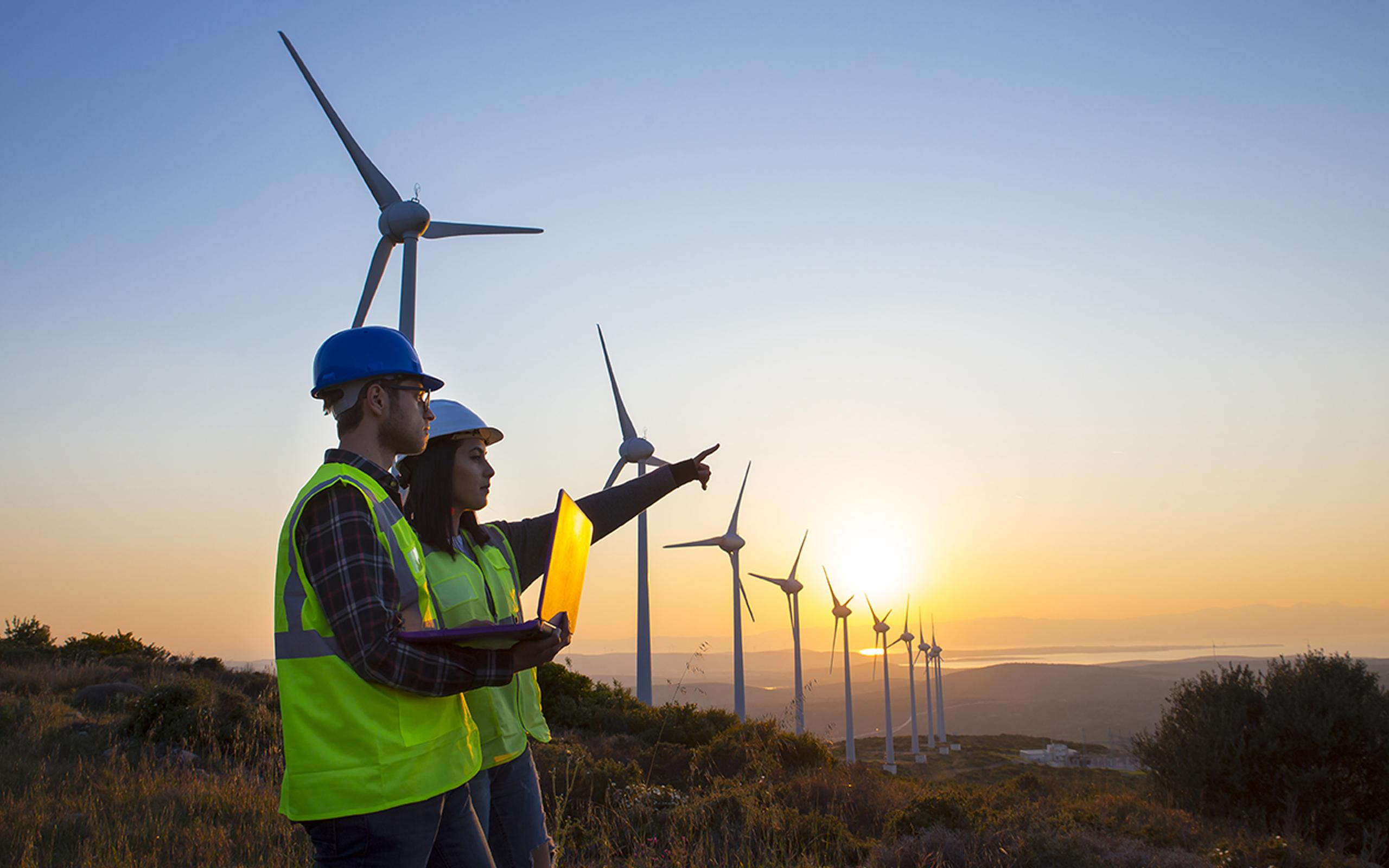 For the renewable energy sector, exploring geopolitical risks is important not only because the industry experiences the global ripples of geopolitics, but also because the sector is making waves of its own. The desire to increase future resilience and integrate sustainability is becoming a global trend for COVID-19 loans made by governments, and the interruption of planned investments and budget cycles for other sectors of the energy mix could open the door for acceleration. It will also bring about operational challenges as countries reopen borders and global supply chains start again.
No risk can be considered in isolation
Geopolitical risks for an organisation arise from its unique exposure and vulnerability to multiple, inter-related political, economic and geographical factors that impact its ability to successfully operate and execute its strategy.
As 2020 has clearly demonstrated, no risk or stage in project development and maintenance can be considered in isolation; and 2021 has highlighted the need to future proof energy infrastructure against climate extremes1 . New challenges and risks will unfold when the world emerges from its post-COVID-19 hibernation that, if not managed correctly, could threaten the very resilience and long-term profitability of a project.
An integrated approach to geopolitical drivers of risk
Analysing the geopolitical risks through 'six lenses' and their drivers is a framework approach that will help organisations begin to understand their exposure from a 360° perspective and the interconnected nature of the challenge in front of them.
Rich narrative scenarios that explore secondary impacts are one way to stress test your thinking and processes, and three have been set out to consider – you can read the full narrative in the 2021 Renewable Energy Market Review: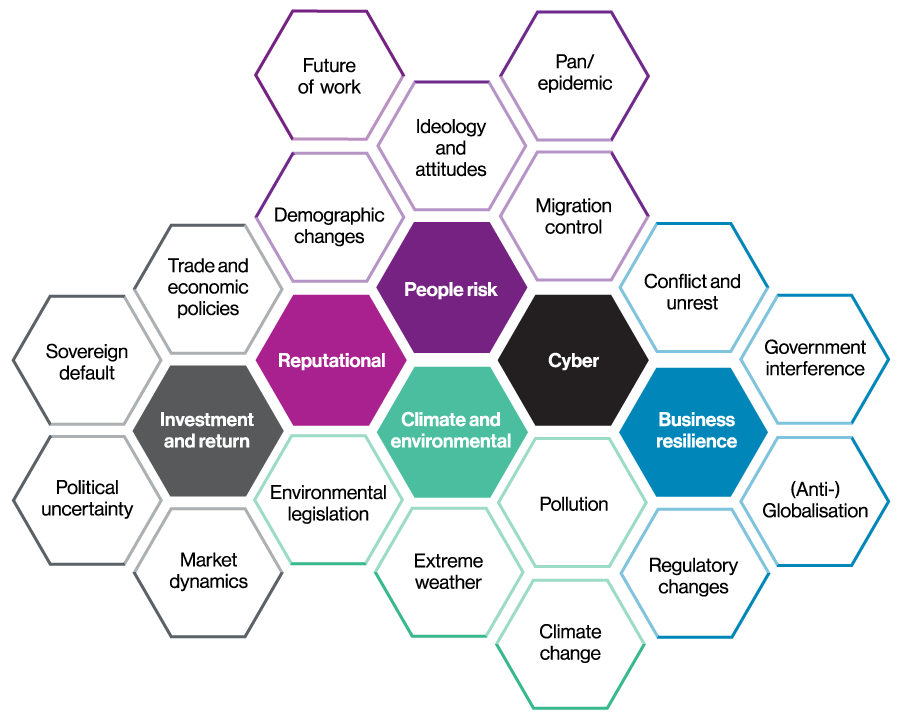 These are Investment and Return, Reputational, People Risk, Cyber, Business Resilience, Climate and Environmental.
Figure A:The six lenses within the context of geopolitical risks
Storyline 1: the systemic risk of solar storms: climate and environment, business resilience, investment and return lenses
One serious threat to the reliability of electric power is geomagnetic storms – severe disturbances caused by solar storms in the upper layers of our atmosphere that induce currents in long conductors on the Earth's surface, such as power lines. In 1989 the transmission system for Canada's Hydro Quebec electricity provider collapsed during a solar storm, leaving millions of people without power for nine hours or more2 . While the cycles of solar activity happen over a longer timescale, and it can be tempting to focus on more immediately apparent risks, investments in new technology and business continuity plans should incorporate this event into cyber risk planning so there are operational plans for how to respond regardless of why the lights have gone off. While it may never be needed, it could save a company's reputation and protect employees from potential harm.
Storyline 2: Proving sustainability: reputation, investment and return lenses
Despite calls by many for a green recovery from COVID-19, there is also a risk that operational survival and other risks may take priority. One area that needs to be promoted up the agenda is the decommissioning and recycling of obsolete technology. Calls to increase future resilience and focus on electrification could lead to further investments in research and development to accelerate energy efficiency that sees more iterations in the field.
"

One area that needs to be promoted up the agenda is the decommissioning and recycling of obsolete technology"

Lucy Stanbrough
Head of Emerging Risks Research
New processes and technology will need to be developed to recover valuable materials and prevent environmental hazards - solar panels contain toxic materials such as lead that can leach out as they break down3.
Proactive climate action and partnerships to meet these challenges will put organisations at a competitive advantage, given that all listed companies and large asset owners in the UK are expected to make disclosures using the Task Force Climate-related Financial Disclosures (TFCFD) guidelines by 2022.
Storyline 3: Designing for safety and efficiency: reputation, cyber and business resilience lenses
People-induced risks to your business exist in every geography you operate in. As employees began to work from home in compliance with the lockdowns around the world, this exposed their organisations to increased cyber risks and breaches – because data normally accessed in the secured office environment is now taken into homes. There are also far reaching impacts that may emerge in this new environment. Whether your employees are working remotely, or they're back in the workplace taking new safety measures and precautions, the changes, disruption and isolation they're facing have the potential to increase the risks around emotional, financial and social wellbeing4.
Against industry-wide challenges of talent shortages and recertification needs after national lockdowns, there is a complex web of people-related issues to navigate, but which can be explored through risk culture surveys and managed through talent strategies to reduce risks.
A more holistic view of risk
Risk managers should be asking themselves whether they are confident that the far-reaching impacts of a pandemic on their people and business are understood. This is where creating stronger links between C-suites and operational management to produce the required integrated and rehearsed responses.
The unfamiliar is not the improbable. Adopting the culture of expecting the unexpected and resetting business continuity in this vein, so that any future investment, strategic decision-making or operational changes can enhance overall resilience will be essential. Moving from just in time to 'prepare for one, prepare for all'.
Footnotes
1 https://www.scientificamerican.com/article/texas-power-outage-underscores-looming-climate-tests/
2 https://www.nationalgeographic.com/news/energy/2011/08/110803-solar-flare-storm-electricity-grid-risk/
3 https://www.researchgate.net/publication/342671383_Metal_dissolution_from_end-of-life_solar_photovoltaics_in_real_landfill_leachate_versus_synthetic_solutions_One-year_study
4 https://www.willistowerswatson.com/en-GB/Insights/2020/08/lets-talk-wellness-managing-employee-mental-health-in-a-pandemic
Author
---
Head of Emerging Risks Research
---