Mining companies have long been aware of the risk exposure created by their tailings facilities, understanding that a catastrophic failure may cause loss of life, damage to the environment and, potentially, financial ruin.
Until the catastrophic collapse of a dam at a mine in Brazil in January 2019, most mining companies have been able to transfer at least part of their tailings exposure into the insurance market, be it through their General Liability, Property or Environmental Liability insurance programs.
Insurance capacity was generally available and underwriting requirements modest in nature in that insureds had to disclose relatively little information on their tailings facilities, operational or decommissioned, to their insurers in order to obtain coverage.
Understanding the risk
Mineral processing leaves a significant quantity of residue that is dominated by tailings, a mixture of finely ground rock and fluid effluents. The toxicity, acid-generating potential and volume of tailings present a huge challenge for their effective management, which should ensure that they are safely isolated from the environment in secure storage facilities for eternity. These days, tailings storage facilities (TSFs) represent some of the largest human-made structures on Earth and they usually employ a dam behind which the tailings slime is stored in a reservoir.1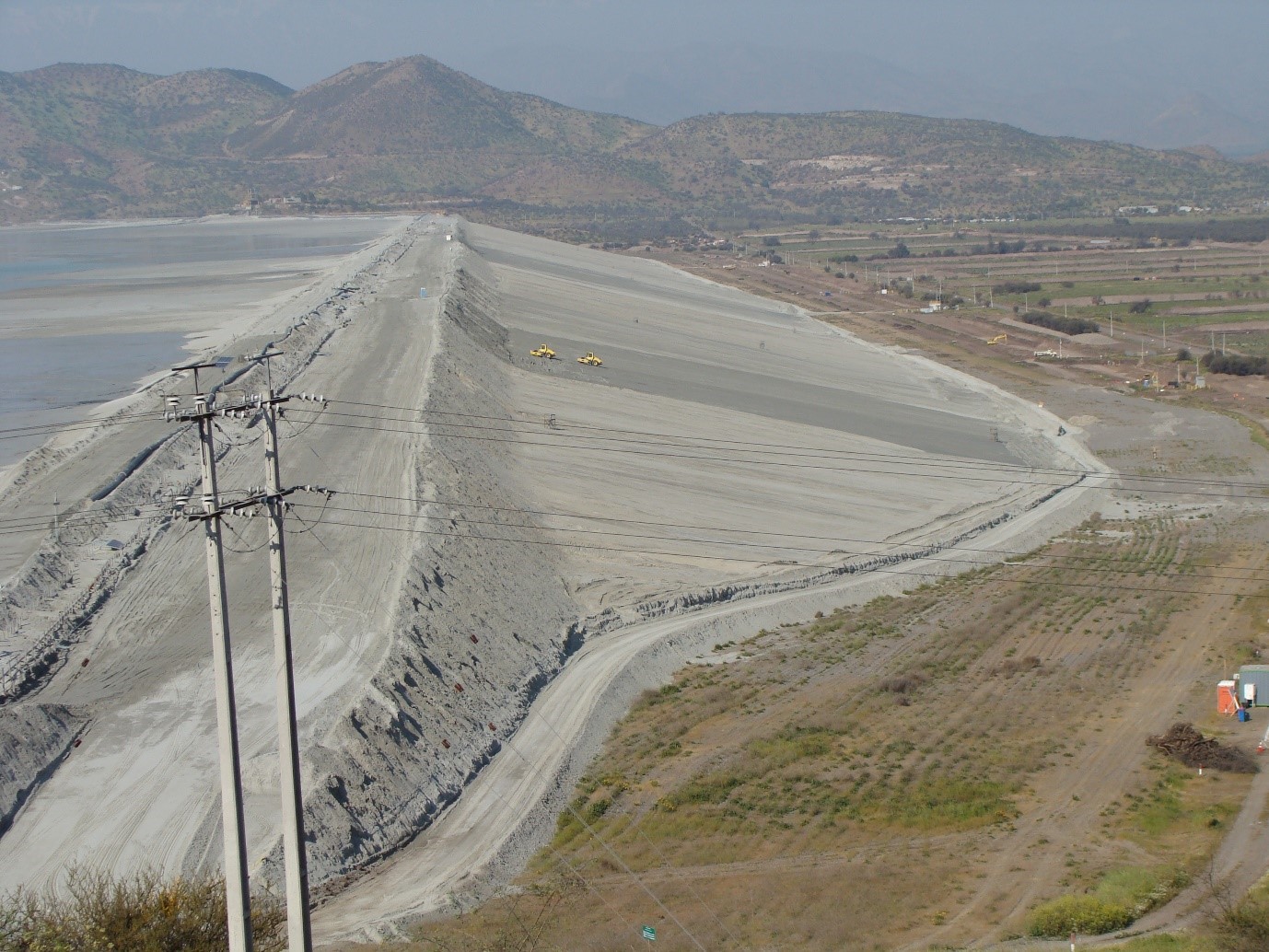 The 4-km-long and 50-m-high Ovejería sand tailings dam north of Santiago, Chile. Photograph: Stephen Edwards, 2016.
Dams are normally constructed from the coarse (sandy) fraction of tailings, which makes them relatively cheap to build, but potentially inherently weak and susceptible to seepage. Unlike a conventional water reservoir, where the dam is built as a complete structure in one go, tailings dams are built in stages using an initial starter dyke followed by a series of raises as the capacity of the facility increases. Most failures have occurred when the facility is active, because of the unstable dynamics of simultaneously filling the reservoir and raising the dam. The direction in which the dam crest moves with each progressive raise is either upstream, vertically (centreline) or downstream. The least stable is the upstream structure, partly because of the poor strength of the weak tailings upon which each dam raise is partially founded. Unsurprisingly then, active and upstream tailings dams account for most failures worldwide.
The number of TSF failures is decreasing, but conversely their magnitude is increasing because the stored volumes of tailings are rapidly increasing. It is estimated that on average there are at least two tailings incidents per year worldwide and unfortunately there have been at least eight newsworthy failures since 2014, including those of the Samarco Fundão (2015) and the Córrego do Feijão barragem 1 (2019) facilities in Minas Gerais, Brazil, and the Mount Polley (2014) facility in British Columbia, Canada. Such failures are usually complex multi-component processes involving a combination of human and physical factors, such as: human errors in location, design, construction and maintenance; collapses triggered by extreme weather events and earthquakes; foundation and slope failures, often caused by structural weaknesses, water seepage or poor drainage. Likewise, the impact of failures has been exacerbated by many factors, including: poor land-use planning; ineffective understanding of risk and poor risk communication; absence or failure of early warning systems; poor emergency response procedures (https://www.preventionweb.net/experts/oped/view/63730). The end results of large TSF failures are huge social, environmental, economic, political and reputational damages in which hundreds of people may die and insured and uninsured losses may run into several hundreds of millions of dollars (http://dx.doi.org/10.1016/j.apgeochem.2014.09.010).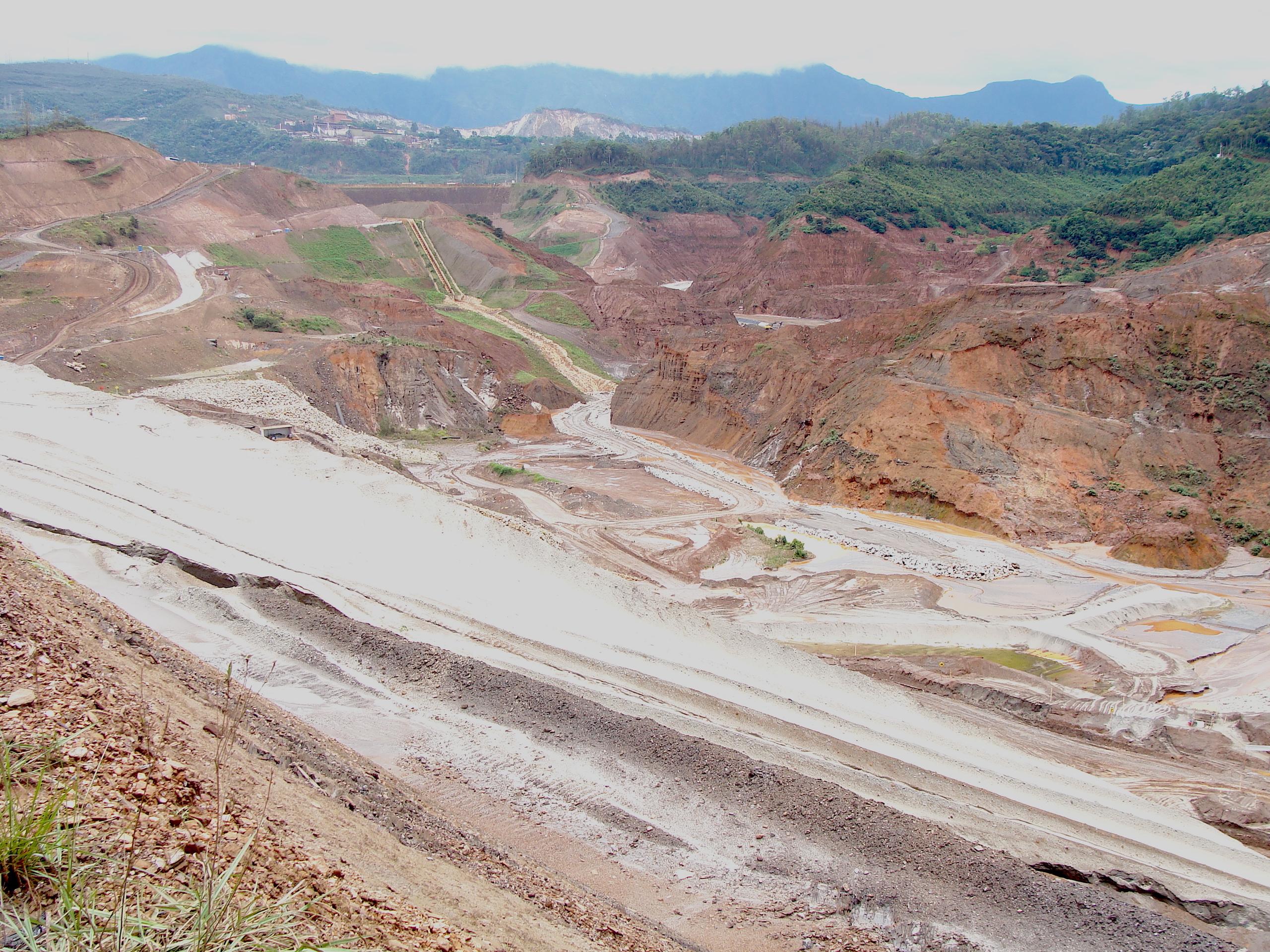 Site of the failed Fundão tailings storage facility at the Germano iron ore mine of Samarco in Minas Gerais, Brazil. The facility failed catastrophically on 5 November 2015, with the release of some 40 million cubic metres of tailings. Photograph: Stephen Edwards, 2018.
An Eye-opening experience
The Brumadinho tailings dam disaster2, which took place in Brazil on Jan. 25, 2019, resulting in the death of 270 people, changed the insurance landscape very rapidly. Almost overnight insurers woke up to the full financial impact that a significant tailings failure could have on their books of business. The result was a complete overhaul in underwriting guidelines and a centralization of underwriting authority away from regional offices and back to head offices wherever located. In addition, insureds saw substantial premium increases across the board. While some insurers exited the mining space completely or imposed tailings exclusions onto their customers, others are carefully managing the limits they deploy on any given risk, therefore mitigating their overall exposure.
Underwriting tailing risk
It has become the new norm that insurers are requesting copies of the latest third party dam inspection reports as well as flood inundation studies – if available. Demand for these reports and studies are likely to increase as climate change forecasting points to the likelihood of more rainfall and extreme weather events. Insurers are using their in-house engineering resources as well as outside geotechnical engineers to understand the data and to evaluate the risk before granting coverage. If the third party dam inspection reports highlight grave deficiencies of a tailings facility, it is likely that insurers will decline coverage.
Transferring the risk
In order to improve your chances of a successful insurance risk transfer of your tailings exposure, we recommend that you take the time to closely work with your broking team to explain your overall tailings management program to your insurers well in advance of your renewal date. That includes commenting proactively on any outstanding recommendations as highlighted within each third party dam inspection report, including status update and anticipated timeline to completion. Including your own in-house geotechnical engineers and tailings management group in the insurance placement process is essential and will position you favorably in the insurance market vis-à-vis others who do not make the effort.
With much increased premiums in this tightening market, insurers can afford to be very selective in where to put their capacity. Risk differentiation is key!
Footnote
1 https://graphics.reuters.com/MINING-TAILINGS1/0100B4S72K1/index.html

2 https://www.bbc.co.uk/news/science-environment-47159216