While it's very common for organizations to have a listening strategy in place to regularly survey employees, there's something new making it easier than ever to get an in-depth, immediate understanding of the issues behind survey results: virtual focus groups.
Imagine the reach of a survey, with the richness of a focus group, online, and with real-time, AI-powered analytics. Well, look no further – virtual focus groups are here with Willis Towers Watson.
Virtual focus groups are ideal for digging deep into issues highlighted in surveys and for discovering what's on the mind of people generally, crowdsourcing to generate ideas, or getting feedback on ideas.
Plus, they have the added advantage that you save yourself the time and cost of travelling, getting everyone together in a room (multiple times), and transcribing and making sense of all those notes.
They're more democratic too, removing biases created by individuals who tend to hog the conversation. With a virtual focus group, everyone has an equal voice.
For us, it's part of making the shift from a listening strategy to an insight strategy.
Here's how a virtual focus group works. Each conversation is moderated, typically by an independent third party, but it could be any leader in your company – even your CEO. The conversation has a clear objective and the moderator drives the conversation asking questions, polling and sharing media, with participants responding in a web chat environment. It can be conducted in multiple languages.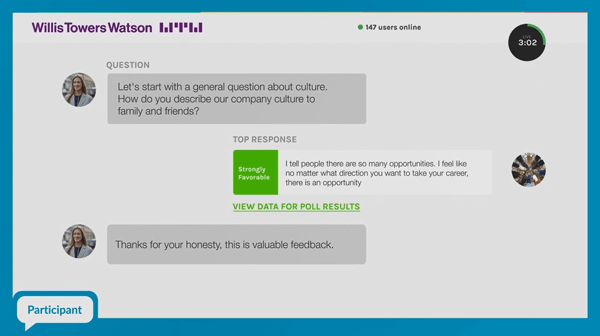 But here's the clever bit. As participants provide feedback, AI is used to analyze the responses in real time to uncover the underlying themes and segment the comments by key demographic groups.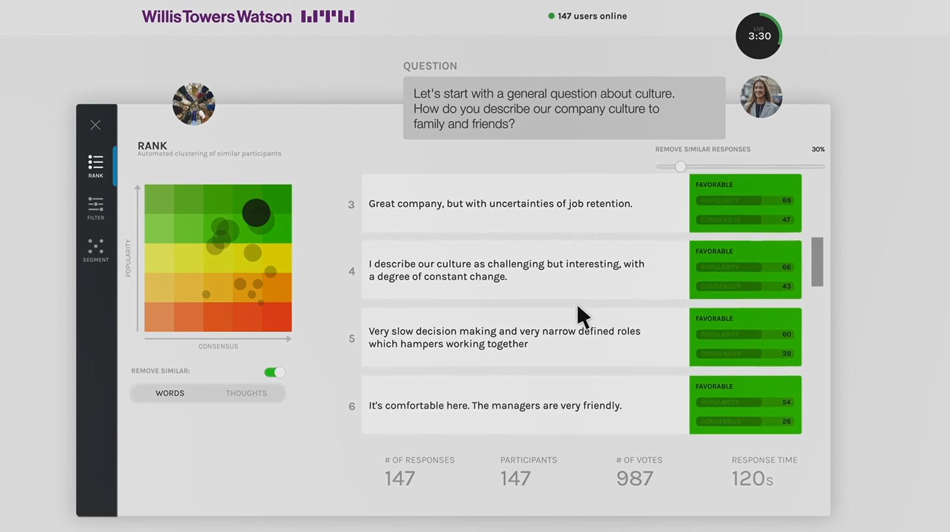 The moderator can view the analytics live, and change the questioning depending on how people are responding. By the end of the session, rich insights are uncovered, new ideas generated, and critical employee segments understood. Participants feel energized, and often go on to become natural change agents for the topic being discussed.
We find clients really value the insights, and employees love the experience and appreciate being involved.
If you're looking for something new to add a layer of depth to your insight strategy, virtual focus groups could be it.
If you've got three minutes to spare, take a look for yourself by watching the video below.
Interested in learning more or seeing a demo? Contact us today.
Author
---
Global Practice Leader
Employee Insights
Dr. Stephen Young is the Employee Insights Global Practice Leader for Willis Towers Watson. He has a PhD in business psychology, and 20 years experience advising the world's leading organisations. He spends most of his spare time with his kids, cycling, and supporting Arsenal Football Club.
---