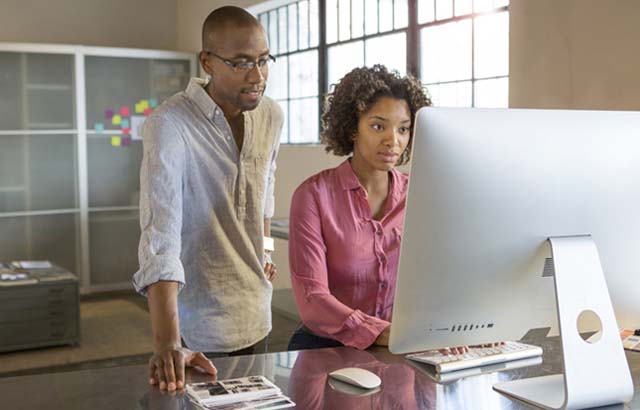 "The future belongs to a very different kind of person with a very different kind of mind — creators and empathizers, pattern recognizers and meaning makers. These…big picture thinkers will now reap society's richest rewards and share its greatest joys." — Dan Pink
There's a big irony to the fourth technological revolution: its potential to return us to a more human state than many of us can remember. As consumers, this is already a reality. When we shop, bank and build networks through social media, our mobile devices seem to know us – how we feel, behave and need to connect with others.
But what about our experience with technology at work? Why are some employers quicker to embrace technology like this in the workplace with tools like chatbots, virtual focus groups and persona-based HR portals that offer a better employee experience, while others are slow, if not reluctant to do the same? In many ways it comes down to having a legacy mindset, one that considers people as predictable cogs in an organizational machine, rather than complex humans that behave according to a shifting mix of emotional and psychological drivers. It's in this mindset that technology is seen more as a cost center, rather than a way to enhance the employee experience.
But that way of thinking needs to change, and many employers know it. In fact, 45% of employers who participated in our recent global Future of Work survey told us they're afraid they may become obsolete in three to five years, and 78% said they feel threatened by digital start-ups where employee experiences resemble more of what they offer customers.
So what can employers do to overcome this mindset and start looking at technology as a tool to create a more connected, rewarding and human experience for their employees? Here are three steps to help.
1. Step back and research
Start by understanding what technologies your business needs and balance these with what employees need. With employees, like any user, different groups want different things and you'll need to uncover this through listening and research.
2. Determine an experience that will drive the right behaviors
Once you've researched, focus on the employee experience you want to deliver. This experience needs to encourage behaviors that help both employees and the business succeed, so collaborate with senior leadership to agree what this should be. Getting senior stakeholders engaged early on is critical to their onward buy in. Set objectives that will deliver mutual benefit with a clear understanding of what's possible to achieve: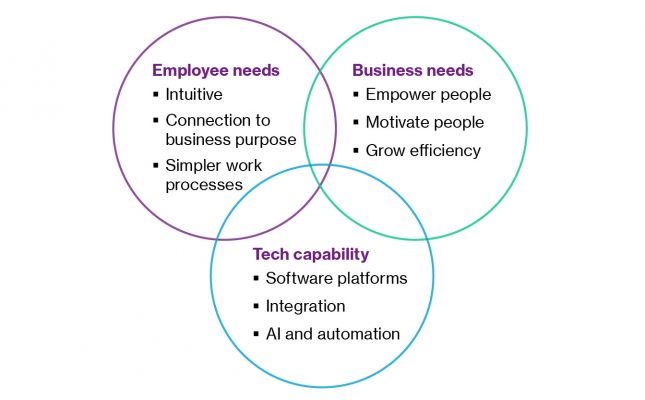 3. Get agile – put your tech to the test
This is the rollout phase and time to start testing how well your approach works for people. Start small and test fast in diverse groups of intended users – the best way to know whether you're hitting the mark. Use minimum viable products for maximum learning at minimum cost – the most efficient route to your objectives. Set and observe quick user experience interviews, poll your employees and adjust as you go. This is NOT a one-and-done exercise. The best tech amounts from the most tests and failures – so collect feedback, learn and update often in iterations.
Final thoughts:
It's time to move away from a legacy mindset and consider how new waves of technology can be used to create a better, more human experience for your employees. This means thinking about technology's potential; not as a cost center, but as a strategic asset that removes barriers to people's work and opens up a more emotional connection to their organization's purpose. Not only will this help set your organization apart from peers, it can lead to better attraction and retention of the people you need to thrive in the future of work.
About the Author
---
Maurice Day
Employee Experience Consultant
---