It could influence whether they remain with you long term or even recommend you as an employer of choice.
The importance of enhancing employee financial wellbeing is highlighted in Willis Towers Watson research1.
Financial wellbeing comes from building resilience, so how can you help your employees do this? You may want to start small by delivering financial education modules such as those shown in Figure 01 or develop a broader offering which includes linking financial education to your specific employee benefit programs.

Figure 01. Financial wellbeing comes from building resilience
Providing employees with a program which focuses on financial education will help them navigate through their life stages:
Starting out – including budgeting and saving, income and asset protection and superannuation choices
Managing life events – these include buying a property or the costs of having children
Building wealth – including the role of debt and investments
Planning for retirement – what do you need to live well in retirement, and what you should consider in estate planning.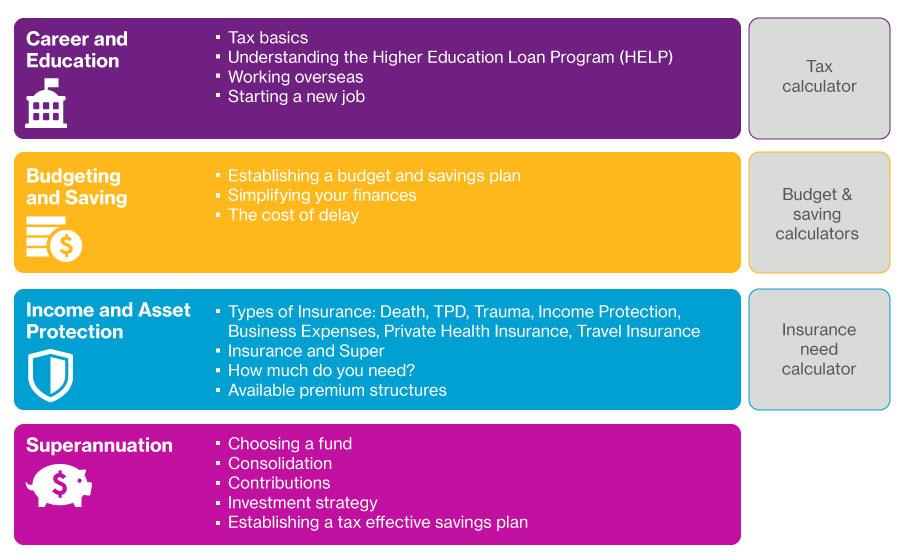 No matter what point your employees are on their financial wellbeing journey Willis Towers Watson can help, partnering with you to understand their requirements. We work with you to identify the opportunities available to support your employees' financial wellbeing and there to assist you in implementing an effective program as part of your broader wellbeing strategy.
Footnote
1 Willis Towers Watson, "COVID-19 and new employee financial concerns", Catalyst publication: accessed 31/08/2020 at https://www.willistowerswatson.com/en-AU/Insights/2020/08/covid-19-and-new-employee-financial-concerns