Sustainable investing encompasses the consideration of long-term opportunities and risks, including, but not limited to, Environmental, Social, and Governance (ESG) factors and wider societal impacts. We have long believed that long-term sustainability issues have a material impact on financial and non-financial risk and outcomes and in the importance of integrating ESG factors into the entire investment process. The COVID-19 crisis has reinforced our belief by highlighting the interconnected and interdependent nature of the world's social and economic systems. The secretary general of the United Nations António Guterres summed this up when he said that "in our interconnected world, we are only as strong as the weakest health systems".
Momentum for ESG integration has been building in recent years with companies recognising they cannot exist in isolation from environmental and social issues and are more dependent than ever on their social license to operate. In August 2019 the Business Roundtable in the United States released a Statement on the Purpose of a Corporation[1], signed by 181 CEOs committed to leading their companies for the benefit of all stakeholders. The COVID-19 crisis is likely to accelerate this shift from shareholder capitalism to stakeholder capitalism, where companies are expected to create long-term value not only for shareholders, but for all stakeholders, including customers, employees, wider society and the planet.

Increased focus on social issues
While sustainability considerations may have temporarily lost momentum as companies manage their way through the immediate crisis, investor expectations have shifted. Now, more than ever, investors expect companies to play their part in addressing ESG issues such as climate change, labour standards and human rights.
Research in the From Values to Riches 2020[2] report, released by the Responsible Investment Association of Australasia in March, showed that 86% of Australians expect their superannuation and investments to be invested responsibly and ethically and that 75% would consider moving to alternative providers if their current provider did not do so.
From the risks of complex global supply chains to how companies treat their employees throughout the crisis, the pandemic has increased investor focus on how companies manage social issues in particular. We have seen many companies step up to aid the relief effort, with some shifting their production lines to provide medical supplies for health care professionals and others deliberately hiring workers who have lost their jobs, particularly from the retail and airline industries that have been so heavily impacted.
Companies that can better manage ESG issues are likely to be more resilient throughout the current crisis. If they have invested time and effort in addressing supply chain risks, they will be in a better position to manage disruptions in their businesses due to lockdowns. Companies that offer their employees more work flexibility and are focused on their wellbeing, would be expected to deliver long-term value — for all stakeholders. In recent years increasing empirical evidence has emerged to support this view[3].

ESG performance through the crisis
While the pandemic is far from over, initial data suggests that companies with better ESG ratings have outperformed the broader market during the downturn. The chart below shows that the four global MSCI ESG equity indexes outperformed the broader market index (the MSCI ACWI) over the four months to 30 April 2020, as well as over the longer time period shown.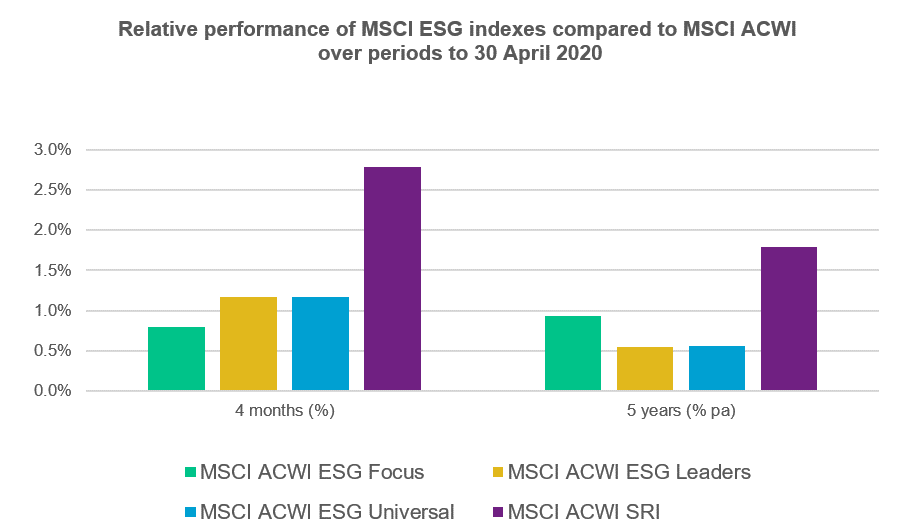 Despite the short time frame involved, the results support our belief that sustainable investment considerations can materially improve risk and/or return outcomes and reinforces the importance of sustainable investment strategies.
Post-crisis, the focus on ESG and sustainable investment strategies should continue to accelerate, particularly as younger generations place more importance on these factors and expect the economic recovery to prioritise positive social and economic outcomes.

Responding to climate change
Beyond the COVID-19 pandemic, an enormous challenge still lies ahead. We believe that climate change, and a just transition to net zero carbon emissions, is a systemic and urgent global challenge that requires specific risk management, opportunity identification and collective action.
According to the World Health Organisation, climate change is expected to lead to changes in infectious disease transmission patterns[4], with climate change and biodiversity loss potentially increasing the risk of future pandemics[5].
The International Energy Agency has estimated that the COVID-19 crisis could lead to an almost 8% fall in global carbon emissions in 2020 compared to 2019[6], due to lockdowns reducing electricity demand, transport and industrial activity. If this occurs, it would be a larger decline in carbon emissions than those seen in any previous economic crisis or war. However, to put this in perspective; to limit global temperature increases to 1.5 degrees above pre-industrial levels, the UN has estimated that global carbon emissions must fall 7.6% every year this decade[7].
The Australian bushfire crisis last summer, followed by the current COVID-19 crisis have increased investors' awareness of both the challenge and the importance, of taking meaningful action on climate change. While some Australian asset owners have made significant progress in assessing and managing climate-related risks in their investment portfolios, we believe that there are further practical actions that all asset owners can take.
We support the recommendations of the Taskforce on Climate-related Financial Disclosures to provide greater disclosure of climate-related exposures. We have developed tools to help investors integrate climate-related risks and opportunities into their investment process, including climate change scenario analysis to identify both physical and transition risks and a sustainability scorecard to monitor portfolio exposures to different sustainability related risks that can be quantified.

Implications for investors
The COVID-19 crisis has highlighted that companies can no longer operate independently from societal and environmental issues, as investors recognise that these present clear financial risks. We believe that investors integrating ESG factors into their entire investment process may be able to improve portfolio resilience, by identifying sustainability-related risks and opportunities in their portfolio and then taking steps to address these. We provide some examples below of practical actions that all asset owners can take to embed sustainable investment practices into their approach:
Undertake training on sustainable investment, including the regulatory and legal context
Conduct a sustainable investments beliefs exercise to examine and benchmark current beliefs
Review existing sustainable investment policies
Measure and monitor portfolio exposure to a broad range of sustainability-related risks and opportunities using a sustainability scorecard
Use scenario analysis to identify exposure to climate-related risks and opportunities under a range of different climate scenarios
Understand the portfolio's carbon footprint and identify the risks and opportunities of a transition to a low carbon economy
Assess exposure to a range of physical climate-related risks and natural perils using catastrophe risk modelling tools
Incorporate ESG integration and stewardship practices as a decision criterion when selecting investment managers
Ask existing investment managers to improve their approach to ESG integration and stewardship, and be prepared to replace them if they don't
Join and help shape collaborative initiatives such as the Principles for Responsible Investment, Climate Action 100+ or the Thinking Ahead Institute.
Footnotes
1 https://www.businessroundtable.org/business-roundtable-redefines-the-purpose-of-a-corporation-to-promote-an-economy-that-serves-all-americans

2 https://responsibleinvestment.org/wp-content/uploads/2020/03/From-Values-to-Riches-2020-full-report.pdf

3 For example, see: Clark, Feiner, Viehs From the Stockholder to the Stakeholder: How Sustainability Can Drive Financial Outperformance, University of Oxford, Arabesque Partners (2015). Available at: https://ssrn.com/abstract=2508281

4 https://www.who.int/news-room/fact-sheets/detail/climate-change-and-health

5 https://www.carbonbrief.org/q-and-a-could-climate-change-and-biodiversity-loss-raise-the-risk-of-pandemics

6 https://www.iea.org/reports/global-energy-review-2020/global-energy-and-co2-emissions-in-2020

7 https://www.unenvironment.org/resources/emissions-gap-report-2019
Author
---
Louise Lew, FIAA
Head of Sustainable Investment, Australia
---