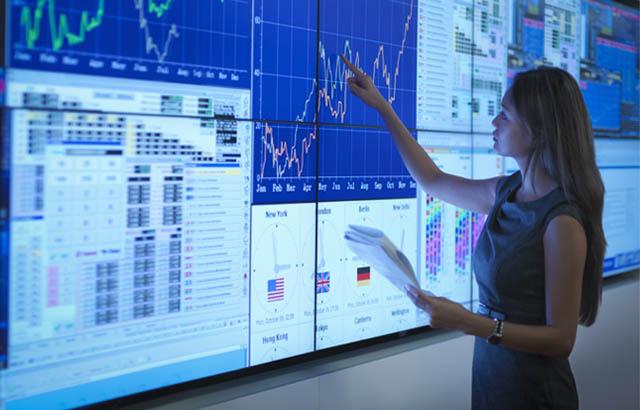 Aviation is a sector inherently exposed to geopolitical risk because it is so visible. Whole societies depend on it, and it is seen as symbolic when it goes wrong. Aircraft crisscross national airspace, airports are targeted by disruptive and destructive actors and air travel is viewed as a non-green travel option. It is fragile and vulnerable to climatic extremes, societal and economic tension and weaponized technology. This means aviation is liable to be affected by shifting international political and security situations, as well as new regulations. Here are four key geopolitical drivers of risk the global aviation industry should be aware of in 2019:
1. Danger areas and no-fly zones
War and conflict continue to affect several countries in strategic flying zones. As shown by the downing of flight MH17 over Ukraine in 2014, situations on the ground can have disastrous effects on airspace in excess of 30,000 feet. Altitude is no guarantee of safety and certain areas may need to be circumvented, costing time and fuel.
Conflict is ongoing in Afghanistan, Libya, Syria, Ukraine and Yemen, while territorial disputes in the South China Sea continue. In addition, while North Korean missile tests seem to have abated following the June 2018 summit between U.S. President Donald Trump and Kim Jong-un, the airspace around North Korea is subject to restrictions.
Carriers operating out of the Middle East, linking Europe with South East Asia and Australia, can be particularly affected by these danger areas, as can carriers operating in the vicinity of the Sea of Japan. Such geopolitical disturbances impacting airspace security look likely to continue, and with the spread of technology around the world and into space, the threats may become more unpredictable.
2. Pilot shortages
A critical risk to aviation is an acute shortage of pilots. To sustain current rates of global growth in air travel, some 790,000 new pilots are required over the next 20 years. Despite being a long-term risk, the effects are already present today, and efforts to mitigate the risk must begin now.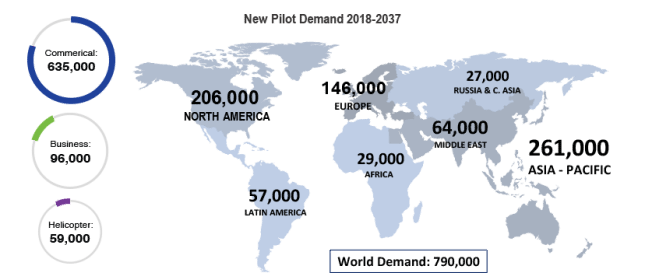 Worldwide pilot demand 2018-2037 (source: Boeing)
The aviation industry is aware of this problem, but geopolitical concerns may impact capacity to mitigate the risk. Given that the area with the greatest number of pilots is Asia-Pacific, a deteriorating trade and diplomatic relationship between the U.S. and China may adversely impact pilot supply, especially if movement of people is restricted or different training standards are not internationally recognized. Trading tensions are on the rise, and they will have a direct impact on the aviation sector and associated industries.
There could potentially be savings from having less redundancy in the cockpit and using more artificial intelligence (AI). This is a controversial area, and demonstrates that any solutions would need to draw on insights from numerous areas – not least of them passenger perceptions.
3. International Air Transport Authority (IATA) regulations
Enhancing IATA's customer and associate experience:

Africa – facilitate agreements between airlines on new routes or increased frequencies based on SAATM principles
Latin America – support improvements in infrastructure policies, plans or regulations
Asia Pacific – ensure improvements in infrastructure policies, regulations or operations that support growth
EUR – support states in the development and implementation of a National Airspace Strategy

Consumer protection

Aligning regulatory movements with industry principles

Improving IATA's marketing and sales processes

Achieve regulatory reforms in Asia-Pacific, Africa, the Middle East and the Americas
Ensure smarter regulation principles are used by governments

Unruly passengers

Obtain MP14 ratification by additional states

Airport slots

Complete review of the World Slots Guidelines
Moreover, this year dangerous goods regulations have been updated to include:
New rules for lithium batteries
New UN numbers in the IATA dangerous goods list
Updated DGR packing instructions
Changes to IATA shipper's declaration
Companies need to have complete awareness of the regulatory environment because non-compliance could lead to business interruption, including grounded flights, with attendant cost repercussions.
4. Tech-based threats
Multiple airlines suffered data breaches affecting hundreds of thousands of customers. Such breaches are liable to have a particular impact owing to the sensitive personal data stored by airlines, including customer payment and passport details. Remediation costs for protecting affected customers can be high, as is the potential for regulatory fines. Because of the value of this, aviation businesses are lucrative targets for cybercriminals seeking financial gain.
Moreover, the cyber threat to flight operations has been highlighted as a cause for concern. Recent research by infamous penetration tester Ken Munro presented at SC Congress in February 2019 shows that many aircraft contain a myriad of legacy systems with exploitable vulnerabilities. In 2018 we also saw cyber incidents affecting airports, including drones and flight display screens going offline. This illustrates that the digital ecosystem of the aviation sector has multiple points of failure. In 2019 it will be imperative for the aviation sector to cooperate with regulatory and law enforcement bodies to establish preventative measures and procedures for quick reactions if other drone incidents occur.
A holistic approach
The key to understanding and mitigating geopolitical risks is a holistic view of the risk landscape. By analyzing operating contexts through multiple lenses – such as people, business resilience, investment, cyber, reputation, and climate and environment – a whole spectrum of interrelated risks become visible. There is no one solution that helps mitigate these risks, but they instead require an integrated response and a reminder that threats emanate from having a capability, an intention or motive – and an opportunity.
Author
---
Andreas Haggman
Emerging risks research manager
Andreas heads up the Willis Research Network Emerging Risks hub, focusing on geopolitics, cyber, technology and future trends. He works to connect academic and other research providers with the company, ensuring that we take advantage of the latest knowledge and tools to shape and enhance our client offerings. Andreas has a PhD in cyber security, has previously studied conflict and intelligence, and has experience in the video games, retail, and defence sectors.
---